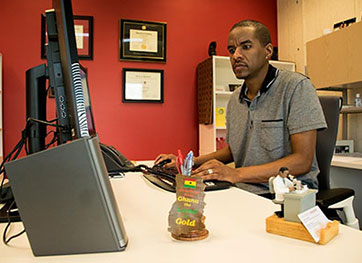 The University of Houston is launching an institute focused on HEALTH – Helping Everyone Achieve a LifeTime of Health – with a mission to improve public health. The interdisciplinary group of scientists behind the HEALTH Research Institute will focus, in particular, on making improvements within communities that bear a disproportionate burden of disease and who are oftentimes disenfranchised, marginalized or underserved.
Led by Ezemenari M. Obasi, the institute's membership plans to accomplish this through rigorous and innovative science paired with community-based common sense. While their research will be empirical in nature, they will work with the community to make it translational. Ultimately, this will give grass-roots leaders and organizations in the community tools they can use, themselves, to better serve their health needs and be part of their own solution. By putting the science into real-world practice, this puts the power in the hands of the people who will be using it day to day.
Bringing researchers from various disciplines together with community representatives in a partnership to proactively address prominent health concerns experienced both locally and nationally, the institute's scientists have expertise in a range of health-related topics, including alcohol, anxiety, cancer, depression, diabetes, HIV/AIDS, social determinants, tobacco and illicit drugs. Banking on their significant experience working with community agencies and stakeholders to discover and promote sustainable, data-driven solutions to real-world health challenges, their goal is to improve the quality of life and lifespan of individuals, including those from underserved racial and ethnic backgrounds, as well as individuals with behavioral health needs and of lower socioeconomic status.
What sets the HEALTH scientists apart from their colleagues in other institutes around the country is that, at UH, they have the communities right next door in the second most diverse metropolitan area in the U.S., whereas other programs doing this kind of research may not always have the benefit of having direct access to these communities outside of their scholarly environments.
At UH, the institute's scientists will partner with a community advisory board to strategically and thoughtfully develop solutions to health challenges from both a prevention and intervention standpoint, while providing mentorship to junior scientists and practical experience to students and trainees. This partnership will yield culturally-informed and community-embedded solutions, potentially making them more realistic and, presumably, more likely to move the needle when it comes to improving public health.
"Our vision is to bring the right people and the right resources together to make change happen," said Obasi, who is the institute's founder and an associate professor in the Department of Psychological, Health and Learning Sciences in UH's College of Education. "We aim to become a model for other institutes across the nation that want to address and eliminate health inequities."
The HEALTH Research Institute is committed to advancing cradle-to-grave, bench-to-bedside translational research by ensuring that the knowledge it generates is also disseminated to the communities that need it most.
"We recognize sometimes the scientific challenge is in overcoming barriers that prevent the integration of effective interventions into common health care practice," said Lorraine R. Reitzel, who co-founded the institute with Obasi and also is an associate professor in the UH College of Education's Department of Psychological, Health and Learning Sciences.
In developing an infrastructure to leverage UH's intellectual capacity to meet the health needs of underserved communities, Obasi and his colleagues will identify, mentor and build a team of interdisciplinary researchers committed to addressing health challenges in and around the Houston community and beyond.
"The University of Houston is embedded in one of the largest and most diverse metropolitan areas in the nation," Obasi said. "We are committed to advancing science and practice to improve the health and, ultimately, the lives of those we interact with every day."
With scholars from the College of Education, College of Liberal Arts and Social Sciences, Cullen College of Engineering and Graduate College of Social Work, this interdisciplinary institute is poised to bring about comprehensive data-driven solutions that will make an impact on the communities it serves. In addition to its leaders, Obasi and Reitzel, inaugural fellows of the HEALTH Research Institute include associate professor of psychology Qian Lu, associate professor of biomedical engineering Elebeoba E. May, health and human performance professor Dan O'Connor, associate professor of social work Isabel Torres, associate professor of social work Luis Torres, psychology professor Steven Woods and psychology professor Michael J. Zvolensky.
The institute was started with funding from the UH Division of Research. For more information, visit the newly launched HEALTH website at
http://www.uh.edu/health-research/
.
###
Link:
http://www.uh.edu/news-events/stories/2016/September/092716HealthResearchInstitute.php
Twitter handles: @HealthUH * @EzemenariObasi * @UH_Research * @uhcoe * @UHouston * @UH_NewsFacebook pages: UH Research * University of Houston College of Education * University of Houston * Univ. of Houston News/EventsHashtags: #health #community #outreach #underserved #communities #disparities
About the University of Houston
The University of Houston is a Carnegie-designated Tier One public research university recognized by The Princeton Review as one of the nation's best colleges for undergraduate education. UH serves the globally competitive Houston and Gulf Coast Region by providing world-class faculty, experiential learning and strategic industry partnerships. Located in the nation's fourth-largest city, UH serves more than 43,700 students in the most ethnically and culturally diverse region in the country. For more information about UH, visit the university's
newsroom
.
---