Big ideas often emerge from the University of Houston that impact local, national and global communities. Some of these ideas also affect the Cougar community. UH's sustainability initiatives, for example, enhance the campus … and the planet.
On Nov. 17, the projects and practices that make UH a sustainable campus will be spotlighted during Sustainability Fest. This annual event showcases the University's efforts to reduce its carbon footprint and educate faculty, staff and students on the benefits of sustainable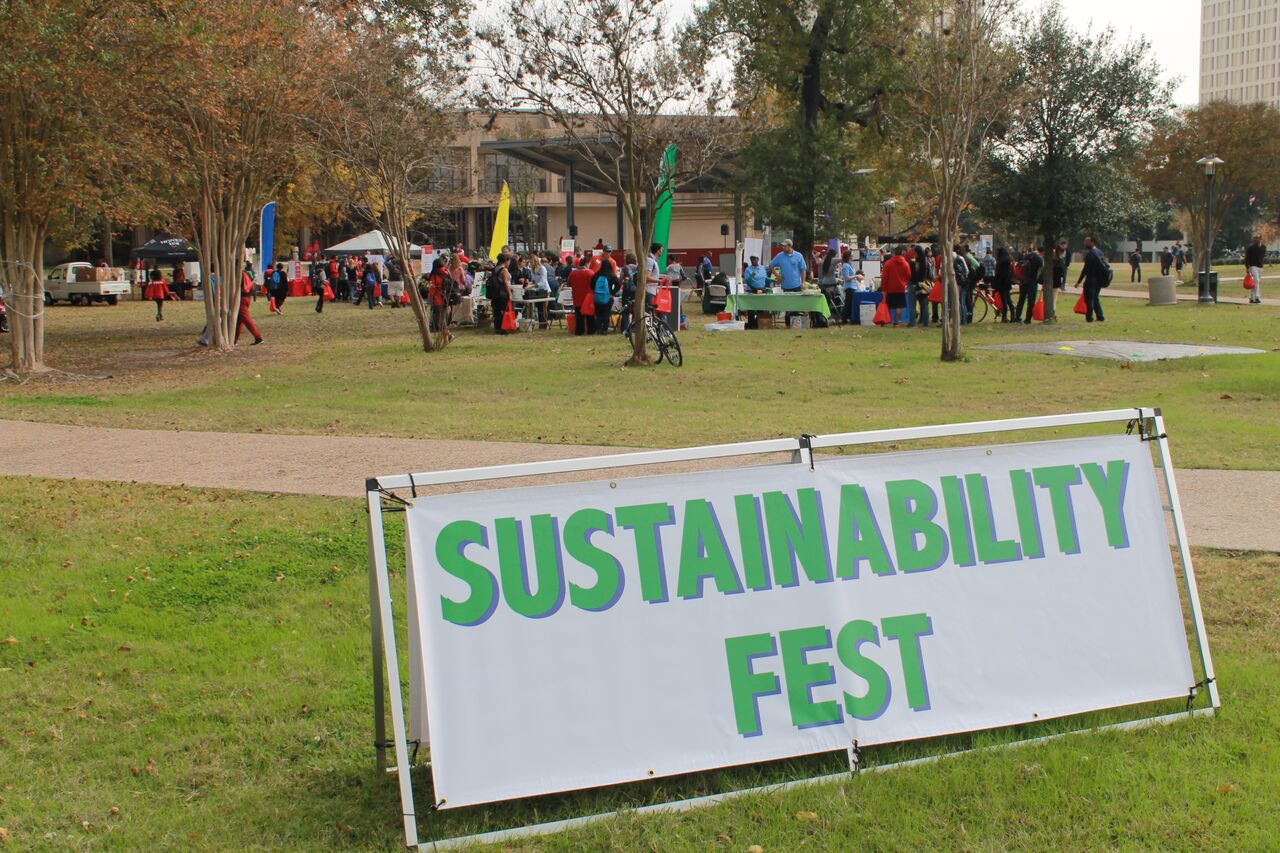 lifestyles.
This year's festival runs from 11:30 a.m. to 1:30 p.m. in UH's Rockwell Pavilion.
Presented by UH's Office of Sustainability, the event will feature a variety of educational activities and demonstrations. Highlights include:
11:45 a.m. – Creative Expressions Contest Winners Announcement: Visual artists and writers will be recognized for submissions that focus on sustainability
12:15 p.m. – Acroyoga demonstration
12:45 p.m. – Bike maintenance workshop
1:15 p.m. – Weather balloon launch (weather permitting)
1:30 p.m. Bike social ride through campus and along Brays Bayou (weather permitting)
Ongoing activities throughout the festival include Nissan LEAF test drives, upcycled crafting and sustainability trivia. The first 500 attendees with valid Cougar Cards will receive free tote bags and be entered into a drawing for prizes.
Attendees also have an opportunity to win a Swagway (donated by Facilities Services) by participating in the #SustainableCoog competition. At the festival, community members can take a photo in front of a coastal prairie backdrop and post it to Facebook, Instagram or Twitter by the end of the day. On the post, participants can offer some insights on how they are sustainable and use the #SustainableCoog hash tag and include @UHSustain. Creative entries and those with the most shares and likes will earn extra points. Winners will be selected by the Sustainability Fest planning team.
Festival sponsors include the Houston Zoo, Texas Parks and Wildlife Aquatic Education, UH Dining Services, Bike Houston, Metro Houston, Urban Harvest, UH Facilities Services, the City of Houston Office of Sustainability, Pedal Party, UH Energy, the Hermann Park Conservancy and many others. For a complete list of sponsors, visit the Sustainability Fest website.
UH's Office of Sustainability facilitates sustainability-based collaborations between campus constituents and external groups. It also delivers educational programming to enlighten faculty, staff and students on sustainability practices. The office also manages the Campus Community Garden, which grows fresh, organic produce that is donated to local food pantries.
Complementing the office's activities are a range of campus initiatives aimed at promoting zero waste and a sustainable environment. These include trayless dining, office and residence hall recycling programs, campus recycling receptacles, green commuting, green computing and solar panels (powering offices in UH's Central Utility Plant). Recycling at UH is simplified with dual single-stream receptacles and solar-power trash compactors (located throughout campus). Filtered water refill fountains also are available to reduce the number of plastic bottles in landfills.
Through strategic programs and initiatives, UH is consistently ranked on the Princeton Review's list of "Green Colleges"  Each year, this guide recognizes colleges from the U.S. and Canada for their commitment to sustainability in academic offerings, campus infrastructure, activities and career development.   
---