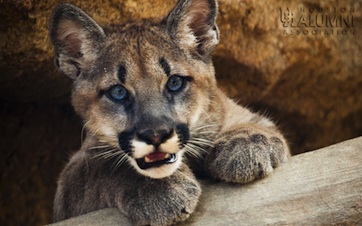 The might and majesty of the cougar has long symbolized the University of Houston.  The big cat represents the spirit of UH's students and personifies the strength of the University's academic programs.
On Sept. 29, Houstonians can pay tribute to UH's very own live mascot Shasta VI at the Houston Zoo (6200 Hermann Park Drive). The rescued cougar will celebrate his second birthday on this day, and the public is invited to a special celebration.
The party starts at 10:30 a.m. with a grand entrance by Shasta VI, who will receive his own cake and birthday presents. Kids can share in the fun with crafts and activities from 9 a.m. – 3 p.m. At 11:30 a.m. and 1:30 p.m., Houston Zoo staff members will conduct cougar training demonstrations.
For this special event, Cougar fans wearing UH apparel will gain free zoo admission between 9 a.m. and noon. UH students receive free admission to the zoo every day when they present a valid student identification card.
Shasta VI arrived at the Houston Zoo in 2012. The young cougar came to the Bayou City from Washington State. He and his two brothers were rescued after a hunter killed their mother. At the zoo, he resides with cougar pal Haley, who also serves as a UH ambassador. To learn more about Shasta VI's story, visit this Houston Zoo blog article.
Shasta VI follows a line of previous mascots that helped showcase Cougar pride on campus and in the community. His presence at the Houston Zoo is made possible through a partnership with the UH Alumni Association (UHAA) and the generosity of donors.
Fans of Shasta VI can have his image on their phones, laptops or tablets with downloadable wallpaper available from the UHAA website.
For more details on this event, visit the Houston Zoo's calendar page, and for details on the zoo, visit www.houstonzoo.org.  To learn more about UHAA, visit its website.
About the University of Houston
The University of Houston is a Carnegie-designated Tier One public research university recognized by The Princeton Review as one of the nation's best colleges for undergraduate education. UH serves the globally competitive Houston and Gulf Coast Region by providing world-class faculty, experiential learning and strategic industry partnerships. Located in the nation's fourth-largest city, UH serves more than 39,500 students in the most ethnically and culturally diverse region in the country. For more information about UH, visit the university's newsroom at http://www.uh.edu/news-events/.
---