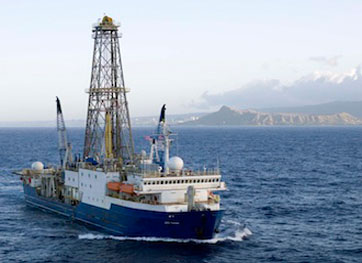 From finding the first deep-water hydrocarbons in the Gulf of Mexico to locating the meteorite impact that doomed the dinosaurs, scientific ocean drilling has unlocked some major mysteries. A University of Houston (UH) geologist hopes to uncover more such secrets as co-chief scientist on a major international expedition to recover the first-ever drill core from the lower crust of the Pacific Ocean.

Jonathan E. Snow, an associate professor in the department of Earth and atmospheric sciences, will co-lead 28 scientists, chosen from hundreds of applicants around the world, aboard the JOIDES Resolution research vessel on a voyage supported by the Integrated Ocean Drilling Program. The geoscientists on this two-month, $10 million expedition will gather rock samples and data from the lower crust of the ocean that will distinguish between two competing theories on the rate and location of the intrusion of magma into the Earth's lowermost crust.

"We will be the first to see the rocks that test these models, with the rest of the global ocean crust community eagerly waiting to see the results," Snow said. "Volcanoes are spectacular things, but they do much more than pose hazards for human populations. They are directly responsible for creating the ocean crust beneath two-thirds of our planet. Deep beneath the volcanic eruptions, molten magma that doesn't erupt cools slowly to form the crystalline layers of the deep crust, through processes that we don't yet understand well."

Covered by miles of water and rock, the deepest layers of the ocean crust are about as inaccessible as it gets, and little was known about them until the 1970s, when deep-diving submersibles and deep-water drilling vessels came on the scene. Since then, scientific drilling has discovered that the ocean crust is formed by a continuous process of volcanic seafloor spreading, one of the key revelations that led to the acceptance of the theory of plate tectonics governing many of the key processes that shape the Earth.

"The formation of the deepest layers, the intrusive lower crust, is the most difficult part to study, because it's situated not only beneath three to five miles of seawater and sediment, but also beneath the extrusive upper layers," Snow said. "Getting at these deep layers requires a combination of deep drilling, using advanced technologies developed for oilfield use, and a location where deep cracks in the Earth remove much of the volcanic layer, making the lower crust more accessible."

The JOIDES Resolution is the ship that will drill into the lower crust. Designed for deep-sea exploration, it is more than 450 feet long, with a drilling derrick, accommodations for 130 people and a floating laboratory for the analysis of core samples. Snow will share his co-chief scientist duties with Kathryn Gillis, professor in the School of Earth and Ocean Sciences and associate dean of the Faculty of Science, at the University of Victoria in Canada. They will join 26 other international scientists on this expedition from December to February.

"Researchers work their entire careers to be co-chief scientist on one of these expeditions," Snow said. "I am flattered that my name came to the top of the list. I'm only the second person from UH ever to get the call."
###
About the University of Houston
The University of Houston is a Carnegie-designated Tier One public research university recognized by The Princeton Review as one of the nation's best colleges for undergraduate education. UH serves the globally competitive Houston and Gulf Coast Region by providing world-class faculty, experiential learning and strategic industry partnerships. Located in the nation's fourth-largest city, UH serves more than 39,500 students in the most ethnically and culturally diverse region in the country. For more information about UH, visit the university's newsroom at http://www.uh.edu/news-events/.

About the College of Natural Sciences and Mathematics
The UH College of Natural Sciences and Mathematics, with 187 ranked faculty and more than 5,000 students, offers bachelor's, master's and doctoral degrees in the natural sciences, computational sciences and mathematics.  Faculty members in the departments of biology and biochemistry, chemistry, computer science, earth and atmospheric sciences, mathematics and physics conduct internationally recognized research in collaboration with industry, Texas Medical Center institutions, NASA and others worldwide.

About the Integrated Ocean Drilling Program
The Integrated Ocean Drilling Program (IODP) is an international research program dedicated to advancing scientific understanding of the Earth through drilling, coring and monitoring the subseafloor. The JOIDES Resolution is a scientific research vessel managed by the U.S. Implementing Organization of IODP (USIO). Together, Texas A&M University, Lamont-Doherty Earth Observatory of Columbia University and the Consortium for Ocean Leadership comprise the USIO. IODP is supported by two lead agencies: the U.S. National Science Foundation (NSF) and Japan's Ministry of Education, Culture, Sports, Science, and Technology. Additional program support comes from the European Consortium for Ocean Research Drilling (ECORD), the Australia-New Zealand IODP Consortium (ANZIC), India's Ministry of Earth Sciences, the People's Republic of China (Ministry of Science and Technology), and the Korea Institute of Geoscience and Mineral Resources. For more information, visit http://www.iodp.org.

To receive UH science news via e-mail, sign up for UH-SciNews.

For additional news alerts about UH, follow us on Facebook and Twitter.
---