Hear what it was like to be on the front lines in NASA's Mission Control when a monster failure occurred during the Apollo 13 mission to the moon. Former flight controller Sy Liebergot will offer insight on what he calls the "longest hour" of his career in a lecture at the University of Houston (UH) Tuesday, Nov. 13.


Liebergot will share his reactions, NASA footage and details of the explosion and heroic efforts to bring the crew safely back to Earth. He'll also discuss the Apollo 13 movie's accuracy and how he assisted actor Tom Hanks and director Ron Howard. The event is free and open to the public.

As a NASA Electrical, Environmental and Consumables (EECOM) Flight Controller in Mission Control, Liebergot's professional engineering career spanned the entire Apollo Lunar Program, Skylab, the Apollo-Soyuz Test Project, early Space Shuttle and the International Space Station. He describes his years with the Apollo program as the "journey of a lifetime" and chronicles those experiences and others in his autobiography titled "Apollo EECOM: Journey of a Lifetime." As part of the heroic Apollo 13 operations team, Liebergot was awarded the Presidential Medal of Freedom.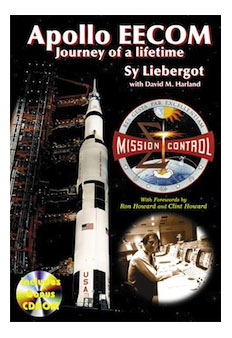 Sponsored by the Houston Louis Stokes Alliance for Minority Participation (H-LSAMP) and the College of Natural Sciences and Mathematics, the lecture is a Rare Cougar Card event. Under the leadership of chemistry professor Simon Bott, the Cougar Trading Card program offers students trading cards of noteworthy individuals at various activities on campus. Meant to engage students in the full university experience, Bott's trading cards are part of a student retention program encouraging students to expand their horizons by attending on-campus events. As students collect the cards and attend more events, they are rewarded with increasingly valuable prizes, including a $1,000 scholarship and drawings for graduation rings, free flights, dining hall vouchers and signed footballs.

H-LSAMP is a federally funded program between UH and local schools with the goal of recruiting and funding minority students who choose to major in one of the STEM disciplines of science, technology, engineering or mathematics. Since H-LSAMP began more than a decade ago, the number of minority undergraduates receiving science or engineering degrees from UH has risen 50 percent.

For more information on Liebergot, visit http://www.apolloeecom.com/.
WHO:
Sy Liebergot, former NASA Flight Controller
WHAT:
Lecture: "Apollo 13: The Longest Hour"
WHEN:
7 to 8 p.m., Tuesday, Nov. 13
WHERE:
University of Houston
Science & Engineering Classroom Building (SEC), room 100
Off Cullen Boulevard, Entrance 14
Map: http://www.uh.edu/campus_map/buildings/SEC.php
###
To receive UH science news via e-mail, sign up for UH-SciNews.

For more information about UH, visit the university's newsroom.

For additional news alerts about UH, follow us on Facebook and Twitter.


---