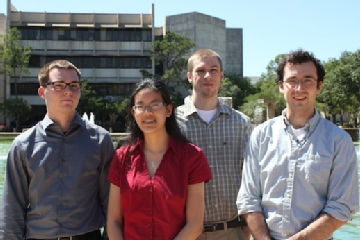 From cognitive neuroscience to theoretical physics, this year's National Science Foundation (NSF) Graduate Research Fellows from the University of Houston (UH) have their sights set on careers in fields ranging from medicine to energy.

Recognizing outstanding students pursuing research-based master's and doctoral degrees in NSF-supported science, technology, engineering and mathematics disciplines, the three-year fellowships cover tuition and include a $30,000 annual stipend. This year's group is looking forward to obtaining advanced degrees from UH, Harvard, MIT, the University of Waterloo in Canada and the University of Michigan. The five awardees are:


Thomas Markovich is a senior physics and mathematics double major and member of the Honors College. Researching under the guidance of chemistry professor Donald Kouri for several years, Markovich participated in the Summer Undergraduate Research Fellowship (SURF) program in 2009 and the Provost's Undergraduate Research Scholarship (PURS) program in fall 2010, as well as completed a senior honors thesis in 2011. He also won the Barry M. Goldwater Scholarship in 2011 and the Undergraduate Hyer Award in 2010. He supplements his research in physics with work in the fields of anthropology and art history, assisting a team led by research assistant professor Daniel Price that investigates a collection of pre-Mayan masks using signal processing. Markovich will begin pursuing a Ph.D. in physics at Harvard in the fall and ultimately would like to conduct research in quantum information and spintronics at the university and industrial levels.
Darren Seibert is a biomedical engineering major and also a member of the Honors College. He is working toward understanding the neural computations underlying visual perception. He has had the opportunity to collaborate on projects that use functional magnetic resonance imaging, or fMRI, with Michael Tarr's lab at Carnegie Mellon University and electrophysiology in Dr. James DiCarlo's lab at MIT. This type of imaging measures brain activity by detecting associated changes in blood flow. Seibert participated in the PURS program in spring 2012 and completed a senior honors thesis in collaboration with the Tarr lab, with engineering technology professor George Zouridakis as his UH mentor, in 2011. Most recently in collaboration with the Tarr lab, Seibert has used a biologically inspired model to predict brain activity in humans while they viewed pictures of natural objects. In the fall, Darren will begin his graduate studies at MIT.
Audrey Cheong began her academic career at UH as an undergraduate, participating in the PURS program in spring 2010, followed by a summer internship at the Methodist Hospital Research Institute in the Texas Medical Center. As a graduate student at UH, Cheong is assisting in the development of neural implants that can allow users to control prosthetic limbs with their mind. The immune system treats these implants as foreign invaders and eventually prevents them from receiving signals from the brain. Working under Badrinath Roysam, chair of the department of electrical and computer engineering, Cheong is adding new capabilities to an automated image analysis software suite that will allow it to better track and analyze specific cell and tissue types involved in the brain's immune response to these implants. Ideally, a more sophisticated understanding of this immune response will allow for the design of implants that will not be rejected by the brain. Cheong also has developed a user interface using the Microsoft Kinect device for image viewing systems in collaboration with UH computer science professor Ioannis Kakadiaris.
Cameron Williams is a mathematics major and physics minor. Throughout his undergraduate career, Williams has conducted research in the field of supersymmetric quantum mechanics with professors Don Kouri in the chemistry department and Bernhard Bodmann in the mathematics department. Williams is working to develop a type of generalization of the Fourier transform, which is used extensively in applications ranging from analyzing images and sounds to aiding in uncovering how waves propagate in the Earth based on seismic data. This is very useful for oil exploration, among other fields. It is hoped the generalization he developed will be useful in the analysis of seismic data and can have a significant impact in audio engineering and other fields, much like the Fourier transform. The group is now beginning to look into applications of these techniques with an emphasis on the analysis of seismic data. As a result of this project and its potential applications, Williams was offered an internship with Petroleum Geo-Services for the upcoming summer. He plans to attend the University of Waterloo in Waterloo, Ontario, in the fall.
Maria Arredondo conducted her research as an undergraduate at UH with assistant professor Hanako Yoshida in the Cognitive Development Lab in the psychology department and completed her senior honors thesis in 2010. She is now a graduate student at the University of Michigan, studying developmental psychology. During her time at UH, Arredondo traveled to Argentina to collect data with children, specifically looking at the developmental trend of executive function across cultures. She became interested in children's cognitive development during her experience at the Cognitive Development Lab and is now investigating the effects of bilingualism and socioeconomic status on reading acquisition.

Honorable mentions went to Kevin Darby and Andrea Schlather, who both received their bachelor's degrees from UH, and Preston Hartzell, a current graduate student in civil engineering.

For a complete list of NSF Graduate Research Fellowship Program recipients and honorable mentions, visit https://www.fastlane.nsf.gov/grfp/AwardeeList.do?method=loadAwardeeList.
###
About the University of Houston
The University of Houston is a Carnegie-designated Tier One public research university recognized by The Princeton Review as one of the nation's best colleges for undergraduate education. UH serves the globally competitive Houston and Gulf Coast Region by providing world-class faculty, experiential learning and strategic industry partnerships. Located in the nation's fourth-largest city, UH serves more than 39,500 students in the most ethnically and culturally diverse region in the country. For more information about UH, visit http://www.uh.edu/news-events/.

To receive UH science news via e-mail, sign up for UH-SciNews.
For additional news alerts about UH, follow us on Facebook and Twitter.
---