The University of Houston's new Health and Biomedical Sciences Center (HBSC) is set to break ground Wednesday, Nov. 3. Bringing together investigators from different colleges and departments in a first-class research facility, the 167,000-square-foot, six-story HBSC will be a key clinical, educational and interdisciplinary research structure at the University of Houston (UH).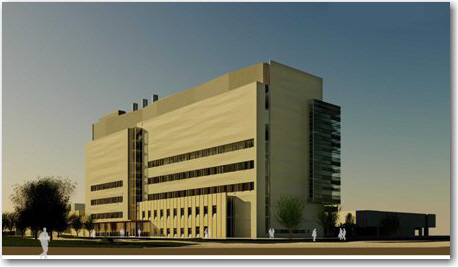 The center will be designed to facilitate collaboration across neuropsychology and neuroscience, measurement and statistics, biology and biochemistry, biomedical engineering, pharmacy, optometry, computer science and computational physiology. Also of significance, these interactive facilities will offer the kinds of work environments students will find themselves in when they graduate, preparing them to be successful when they enter the workforce.
Another aspect to the HBSC is the expanded capabilities for the College of Optometry, which will include an ambulatory surgery center – the first of its kind in an optometry school.  Its two components will include a place for outpatient ophthalmic procedures like cataract surgery and another for laser-refractive surgery, better known as LASIK.
"The center will be a truly integrated cross-disciplinary research facility that will incorporate researchers from the colleges of Optometry, Liberal Arts and Social Sciences, Engineering, Natural Science and Mathematics, and Pharmacy," said David Francis, director of the Texas Institute for Measurement Evaluation and Statistics and a Hugh Roy and Lillie Cranz Cullen Distinguished Professor. "The vision involves creating a space where researchers from psychology, neuroscience, statistics, computer science, engineering, health law and human health and performance, who have related interests in complex systems, will be able to collaborate more easily and readily on projects that are interdisciplinary. It goes beyond traditional colleges working together."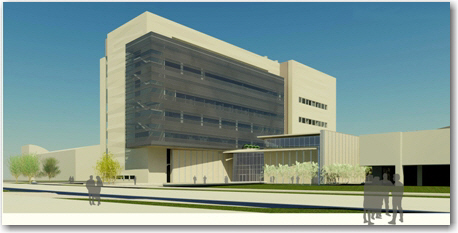 By bringing together researchers across various areas of expertise in the same physical location, the plan is to create opportunities for them to better interact while working on related projects. The new research facilities in HBSC also will strengthen UH investigators' ties to counterparts and institutions in the Texas Medical Center (TMC) and enable collaborations across organizations throughout the nation to the benefit of UH students and faculty, as well as to the residents of Houston and the state of Texas.
"We see health and biomedical research as an area of tremendous opportunity, given both our own campus talent pools, as well as the resources from TMC," said Earl Smith, dean of the College of Optometry and Greeman-Petty Professor.  "With the new facility, we will offer expanded services to our patients, create enhanced educational experiences for our students and establish important research collaborations with other scientists that will ultimately impact vision and its care for future generations."
For additional information about HBSC, call 713-743-8160. For graphics of the center, contact Lisa Merkl.
WHAT:
Groundbreaking of UH's Health and Biomedical Sciences Center
WHEN:
2:30 p.m., Wednesday, Nov. 3
WHERE:
University of Houston's College of Optometry
J. Davis Armistead Building, 4901 Calhoun Road
http://www.uh.edu/campus_map/buildings/JDA.php
WHO:
Speakers to include UH Board of Regents Chair Carroll Robertson Ray, UH Chancellor and President Renu Khator and other senior administration from UH
###

For more information about UH, visit the university's Newsroom at
http://www.uh.edu/news-events/
. 
To receive UH science news via e-mail, visit
http://www.uh.edu/news-events/mailing-lists/sciencelistserv/index.php
. 
For additional news alerts about UH, follow us on
Facebook
and
Twitter
. 
---