As more and more medical care is provided in the home, health specialists say it is critical for people to be able to monitor themselves and make informed judgments about their health. A group of researchers in the Abramson Center for the Future of Health at the University of Houston (UH) received a $250,000 pre-seed grant from the Texas Emerging Technology Fund (ETF) for a system that assesses cardiac function in the home and alerts the user to the need for intervention. Upon reaching specific milestones with the project, the researchers will receive the remaining $750,000 of the $1 million grant.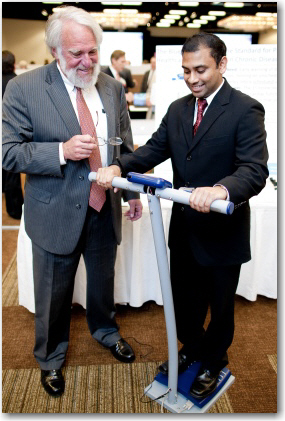 At the core of the system is a novel, patent-pending device called Blue Scale. It is very simple in its design and wirelessly sends key readings of cardiac output data and other related statistics on a patient's condition to company servers that then use proprietary predictive analytics to warn physicians. By alerting doctors in a targeted manner to important changes in patient status that can be managed more immediately on an ongoing basis, medical professionals will be better able to manage care in a realistic everyday environment – the patient's home – and anticipate deadly heart failure emergencies, ultimately reducing the likelihood of hospitalization.
Dr. Cliff Dacso, a professor in UH's College of Technology and executive director of the Abramson Center, leads the research and is working through Blue Box Health Inc. to commercialize the device. In addition to a number of colleagues at the Methodist Hospital Research Institute (TMHRI), Dacso is working with Nithin Rajan from UH's Bauer College of Business and Luca Pollonini from the department of engineering technology, also in the College of Technology. The Abramson Center is a collaboration between TMHRI and UH.
The Blue Scale, which looks like a souped-up bathroom scale, was invented for the non-invasive, continuous monitoring of chronic conditions in the comfort of a person's own home, putting some control into the hands of patients and giving doctors real-time information on their conditions for better evaluation and treatment. Driven by biosensors, it consists of a bathroom scale attached to handlebars that monitor vitals through vessels in the hands via biosensor strips and a pulse monitor. The device is designed for usability in an elderly population, with the base being reinforced and handles large enough for a person to support themselves.
The device is first being used for the wireless management of congestive heart failure, with hopes of expanding on the basic system to monitor asthma and metabolic syndrome, allowing patients to participate more actively in their own chronic disease care. Tracking output of blood from the heart, the Blue Scale reads heart rate, fluid retention and cardiac output in just 15 seconds. The information the device collects on a daily basis is transferred via Wi-Fi network to the doctor's office for continuous, real-time monitoring and is reflected back to the patient in a user-friendly manner. The developers of Blue Scale say it's a life-saving tool that puts power back in the hands of patients, which is a top priority of the Abramson Center.
"Our development of this low-cost, easy-to-use monitoring device will make personalized health care much more accessible," said Dacso, who is also the John S. Dunn Senior Research Chair in General Internal Medicine at TMHRI. "This technology is designed to allow people with chronic illnesses to fine-tune their health, thus avoiding preventable deterioration that may result in emergency care. It's much easier on the patient and provides them with higher quality and very personal care, since markers for chronic disease are measured every day, rather than only during physician visits or crises. When caught earlier, symptoms can be managed more easily and improve quality of life."
With approximately 50 companies competing for this latest round of ETF disbursements, Dacso's company – Blue Box Health – emerged as one of the nine finalists, of which only four received grants for developing and commercializing their biomedical technologies. The ETF is a means to strengthen Texas' high-tech economy by supporting promising technologies during the critical phase between earliest innovation and market viability.
###
NOTE TO JOURNALISTS:
A high-resolution photo of Cliff Dacso and Nithin Rajan demonstrating the Blue Scale is available to media by contacting Lisa Merkl.
About the University of Houston
The University of Houston is a comprehensive national research institution serving the globally competitive Houston and Gulf Coast Region by providing world-class faculty, experiential learning and strategic industry partnerships. UH serves more than 38,500 students in the nation's fourth-largest city, located in the most ethnically and culturally diverse region of the country.
About the College of Technology
The College of Technology educates leaders in innovation and global industry. With nearly 2,000 students, the college offers accredited undergraduate and graduate degrees in construction management technology, consumer science and merchandising, computer engineering technology, electrical power technology, logistics technology, network communications, human resources development and technology project management. It also offers specialized programs in biotechnology, surveying and mapping and digital media.

About The Methodist Hospital Research Institute
The Methodist Hospital Research Institute conducts groundbreaking translational and clinical research to provide the best possible care for its patients. Its goal is to make the latest laboratory findings available to patients in the form of new treatments and clinical trials as rapidly as possible. For more information about The Methodist Hospital Research Institute, see
http://www.methodisthealth.com/tmhri
.
For more information about UH, visit the university's Newsroom at
http://www.uh.edu/news-events/
.
To receive UH science news via e-mail, visit
http://www.uh.edu/news-events/mailing-lists/sciencelistserv/index.php
.
For additional news alerts about UH, follow us on
Facebook
and
Twitter
.
---