COVID-19 Vaccine Hesitancy: Two Years after the Outbreak
Vaccine hesitancy poses a significant threat to public health, hindering the global efforts to contain the COVID-19 pandemic. To better understand COVID-19 vaccine hesitancy in Texas, the Hobby School of Public Affairs at the University of Houston conducted an online survey among Texans 18 years of age and older. The survey was fielded in English and Spanish between Dec. 22, 2021, and Mar. 2, 2022, with 1,587 respondents from the Houston metro area and 1,000 respondents from the rest of Texas. The respondents were matched to a sampling frame on gender, age, race/ethnicity and education and represent the Texas adult population.
The COVID-19 Vaccine Hesitancy: Two Years after the Outbreak presents the results from our recent survey. The report discusses what Texans think about the COVID-19 vaccine (Figure 1) and where they get their general information about the vaccine and the COVID-19 pandemic. The report further explores how vaccine hesitancy varies by key demographic characteristics, which Texans got vaccinated and who chose to get the boosters.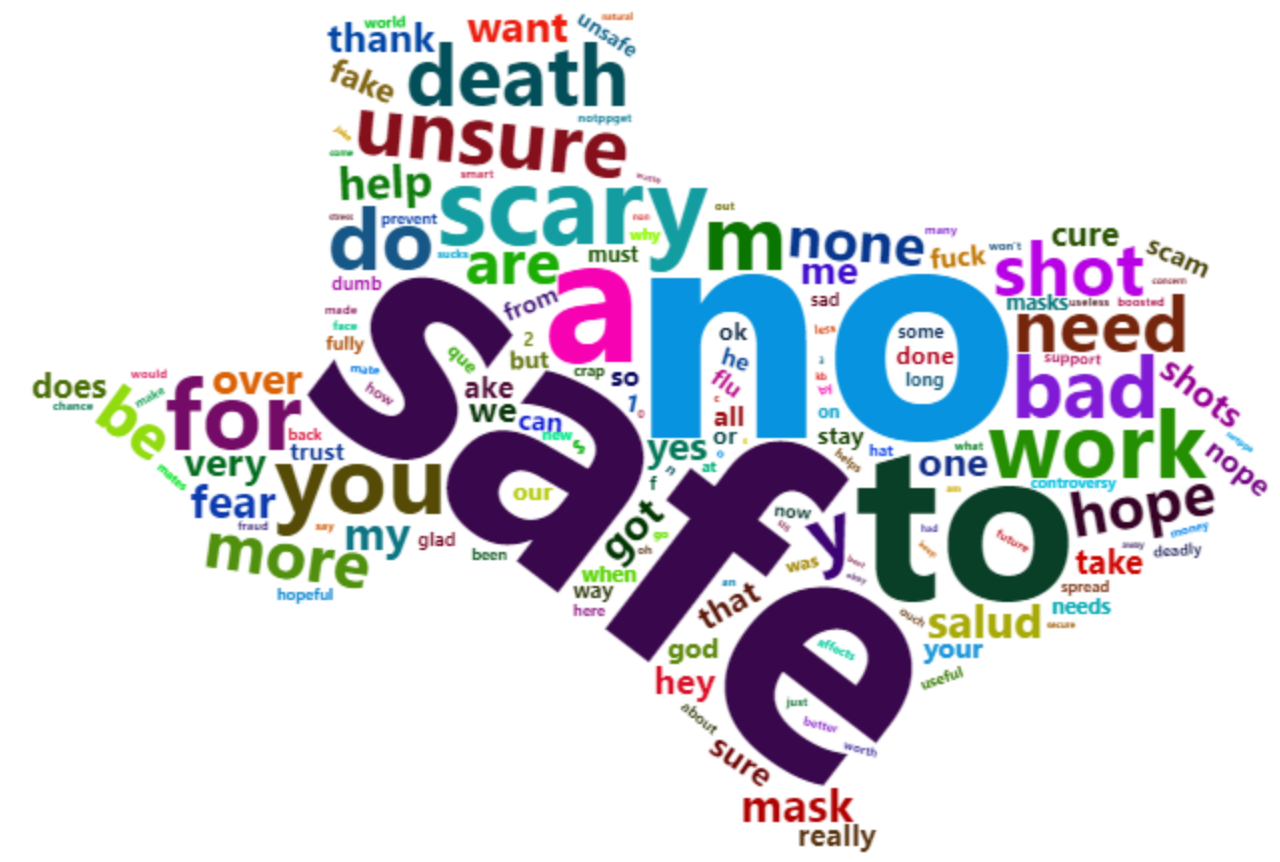 Figure 1: Most common words: When you think about COVID-19 vaccines,
what words come to mind?
Highlights:
The most common word to describe the COVID-19 pandemic was "safe." We found respondents most often used it with positive connotations.
About three-fifths of survey participants reported being fully vaccinated; slightly more than one-third said they were unvaccinated.
Participants 45 and older were more likely to be vaccinated than those ages 18-44; very little difference was reported by gender.
COVID-19 vaccine hesitancy is highly ideological: respondents who described themselves as conservative are the most hesitant toward the COVID-19 vaccine, while those who self-described as liberal were the least hesitant. Still, about a quarter of respondents who reported being liberal remained unvaccinated (Figure 2).
Around 40% of Black and Hispanic respondents were unvaccinated compared to about one-third of white respondents. However, unvaccinated white respondents were the least willing to consider getting the vaccine: 84% compared to 72% of Black and 65% of Hispanic respondents (Figure 3).
Economic compensations and approval status of the COVID-19 vaccine reduced hesitancy. Increasing the money respondents could receive for getting the vaccine almost doubles the likelihood a nonvaccinated respondent will get it in the future. Likewise, the probability nearly triples when a vaccine approval status changes from experimental to fully approved.
Respondents relied on three primary sources of information about the COVID-19 vaccine: news networks, family and Facebook. The sources of information differed by party identification. Republicans relied more on a single news network (23%) than Democrats (17%).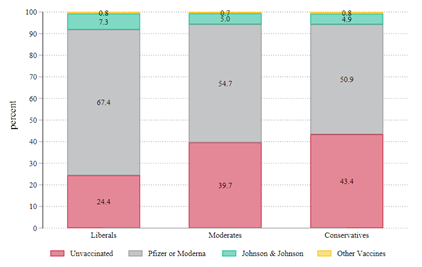 Figure 2: Vaccination status by ideology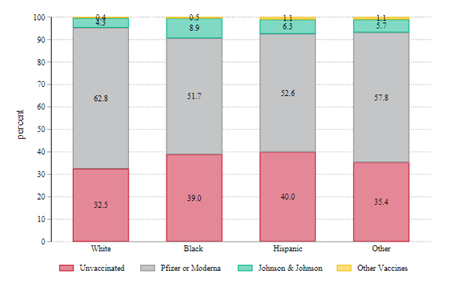 Figure 3: Vaccination Status by Race
Read the report to learn more. 
Media Release June 28, 2022
Research Team
Gail Buttorff, Director, Survey Research Institute and Instructional Assistant Professor, Hobby School of Public Affairs
Jim Granato, Dean, Hobby School of Public Affairs, University of Houston
Henrietta MacPepple, Political Science PhD Candidate at University of Houston
Trevor Nolley, Master of Public Policy student, Hobby School of Public Affairs
Pablo M. Pinto, Professor and Director, Center for Public Policy, Hobby School of Public Affairs
Agustín Vallejo, Post-Doctoral Fellow, Hobby School of Public Affairs
M. C. Sunny Wong, Professor, Hobby School of Public Affairs
María P. Pérez Argüelles, Research Associate, Hobby School of Public Affairs
Savannah L. Sipole, Research Associate, Hobby School of Public Affairs