Employee Spotlight
Nikki Duncan
Senior employment representative in Human Resources
By Kristina Michel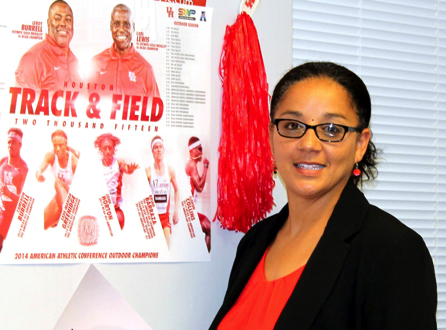 Whether they're recruiting new team members or applying for a position, every staff member who has gone through it knows how overwhelming the hiring process at the University of Houston can be. Fortunately, Nikki Duncan, senior employment representative in Human Resources, is here to serve as a guide.
Though she started with UH in December of 2014, Duncan has more than 15 years' worth of experience in talent acquisition. Her job involves two primary responsibilities. The first responsibility is recruiting. If a department has a job opening, she will work with the managers to ensure they have the highest quality candidates possible to pick from. Sometimes, she will submit the candidates on her own. Other times, she will train department managers on hiring practices that can get them the best pool of candidates.
"For me, it's almost like a puzzle or a maze where you're trying to find the right way through," Duncan said. "I always ask the departments, 'What are you looking for that's not on the job description?' Anybody can find a qualified candidate based solely on what's in the job description, but there's always a particular quality departments are looking for that's not in there."
When the right candidate is found and accepts the job offer, the second part of Duncan's primary responsibilities kicks in. She is one of several teachers of the new hire celebration classes on Mondays, welcoming new staff members and providing them information about the campus, benefits and university policies.
"I have fun teaching the classes because I get to meet new people," Duncan said. "It helps me build a relationship with them so that I can better assist them."
Teaching comes quite naturally to Duncan. Between her career in talent acquisition, Duncan taught special education in HISD for six years. Though she now works solely in talent acquisition, she still enjoys education. Duncan has a bachelor's degree in political science, an MBA and a master's in education. In fact, if all goes well with her dissertation defense, Duncan will receive a doctorate in education in December.
"I'm ready for Christmas. I'm going to wrap the degree up, frame and all and place it under the tree," Duncan said. "It's going to be my present to myself."
When she's not working, Duncan enjoys traveling with her husband and three daughters. A history buff, she especially loves visiting historical and archeological landmarks. While on a cruise with her family this summer, Duncan stopped and visited the Chichen Itza and Tulum Mayan ruins in Mexico.