Student Spotlight
Yvonne Hernandez
Facilities Services student worker
By Richard Zagrzecki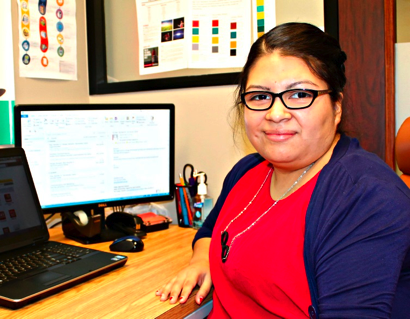 Being bilingual has come in handy for Yvonne Hernandez at her student worker job in the communications office within Facilities Services.
Hernandez, who grew up in Houston speaking both English and Spanish, played in integral role in the department's Creating Literacy in Computer Knowledge program, referred to as CLICK for short.
The program, which is aimed at providing basic computer knowledge to staff who have little or no experience using one, has been offered in both English and Spanish. Hernandez not only created the PowerPoint presentation used in the class, she also helped instruct the classes taught in Spanish.
She also translates department materials into Spanish, including the Facilities Services monthly newsletter.
Hernandez, who is on schedule to graduate this coming spring with dual majors in communications/public relations and organization/leadership/supervision, has worked in Facilities Services for the past year. Her other job duties have included assisting with the Building Coordinator program, as well as updating and maintaining the department's telephone directory.
She's even pitching in with the Facilities Services website.
"We are in the process of creating a new website for the department, so I am actually helping work on that," Hernandez said.
She is not the first person in her family to attend UH. She has an older sister who graduated in 2010 with a degree in education and who is now a teacher. She's also not the only family member to have a student worker job within Facilities Services. Her younger sister Karen also works in the communications office under the supervision of Communications Manager Jacquie Vargas.
For Hernandez, pursuing two degrees while working 20 hours a week in her student worker job pretty much eats up all of her spare time. When she is not busy studying or working, she likes to wind down by watching movies, whether they are new releases or golden classics.
"I like to go to the movies a lot," she said. "It's a lot of fun and it helps me to cope with the stresses of college life."
Hernandez grew up just 10 minutes away from campus and is a graduate of Eastwood Academy, a charter school in the Houston Independent School District. She transferred to UH after spending a semester studying at UH-Downtown.
"I saw UH as a school that was going to grow – which it has – and I wanted to be a part of it," she said. "I'm so glad I made the choice to come here."