Public Safety
Be educated about the outdoor warning siren system
By Ginger Walker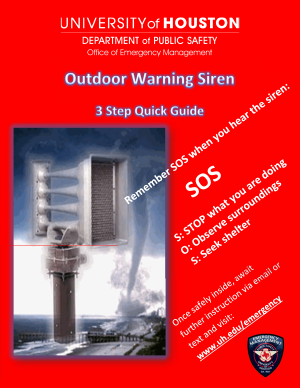 The outdoor warning siren system at the University of Houston is activated by Department of Public Safety in the event of an emergency when it may be unsafe to be outdoors.
The types of incidents that may require activation of the siren system are:
Severe weather conditions (tornado warning or other dangerous conditions)
Major hazardous materials incidents
An armed and hostile individual on campus
Other conditions that may require an emergency shelter in place action
The Office of Emergency Management has a siren resource page on its website that provides valuable information regarding siren awareness. All campus community members are encouraged to post this siren awareness poster at the entrances, exits, break rooms and bulletin boards in their area.
In the event of an emergency, the emergency alert notification system will be used in conjunction with the siren system to disseminate further information to the UH community. To ensure that you receive accurate and up-to-date information during an emergency, it is crucial that all personal information is correct in PASS. This is especially true for cell phone numbers. In order to receive emergency text messages from the University of Houston, you must provide a valid cell phone number in PASS.
With hurricane season already in full swing, this is the time to update call trees, response plans, and contact information in PASS. The cell number provided will only be used for emergency text messages and will not become part of any public listing.
Maintaining your cell phone number in PASS is very simple. Follow these six easy steps:
Log in to AccessUH via https://accessuh.uh.edu/login.php
Select "PASS"
Select "Personal Information"
Select "Phone Numbers"
Enter a mobile number
Click save