Public Safety
Green completes FEMA's Emergency Management Basic Academy
By Cindy Granier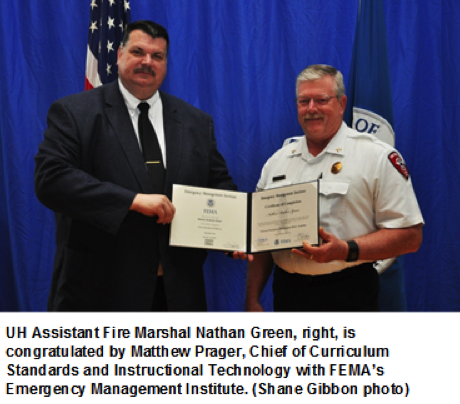 University of Houston Assistant Fire Marshal Nathan Green has graduated from FEMA's National Emergency Management Basic Academy at the Emergency Management Institute in Emmitsburg, Maryland.
Green completed five courses in the 160-hour academy, including Foundations of Emergency Management; Science of Disaster; Planning: Emergency Operations; Exercise Design; and Public Information and Warning.
He learned to understand the roles, responsibilities and legal boundaries associated with emergency management. It was the first of a three-level series in the Emergency Management Professional Program. The curriculum is designed to provide a lifetime of learning for emergency managers through the basic, advanced and executive academies and includes three separate, but closely threaded, training programs.
He became one of only 308 graduates worldwide who have received this training. Green plans to move forward with this training opportunity and attend the advanced academy. He has also been accepted into the Train the Trainer courses that will allow him to be an instructor in future basic academy courses.
More information on FEMA's training classes through the basic, advanced and executive academies, as well as other emergency management courses, is available online.