Facilities Management
Water bottle filling stations a hit as usage surpasses million mark
By Richard Zagrzecki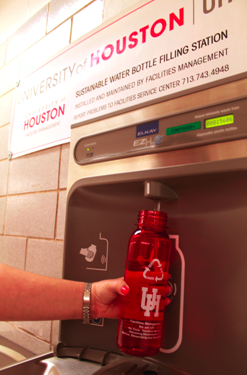 In the 18 months since Facilities Management installed the first UH2O water bottle filling station on the University of Houston campus, they have been used more than 1.1 million times.
The numbers are impressive and are only expected to grow at an even faster clip as more stations are added.
"This is by far exceeding any expectations I had of them. They are extremely popular with students, faculty and staff," said Assistant Director of Central Plants and Mechanical Equipment Michael Burriello.
The stations, which received their moniker as a result of a naming contest last year, are scattered throughout the buildings on campus. The first two were installed in May 2013 as part of a pilot program to promote water sustainability and to reduce the number of plastic water bottles that end up buried in landfills.
There are now 70 stations in approximately 40 buildings on campus, with the latest one added to Farish Hall on Oct. 13. Each has a counter that keeps track of how many times it has been utilized. Together, the stations are being used an average of 40,000 times a week.
The stations are different than a standard drinking fountain in several ways. First, all the water is aimed into the bottle and none is lost down the drain. Second, the water is filtered. A secondary carbon-enhanced inline filter removes particles as well as odors. Third, the entire fountain will shut off when the carbon filter clogs, which prevents unfiltered water from being used.
Burriello said the program shows the University's growing stewardship commitment to protecting the environment and vital resources. The stations not only cut down the number of plastic bottles that are thrown away, but they also help lower the amount of greenhouse gases that are released into the atmosphere. That's because a little more than a half pound of gases are produced during the manufacturing and transporting of each bottle that it produced.
"We have kept 284 tons of greenhouse gases from our atmosphere and three tons of empty plastic bottles from getting into our waste stream during the life of this program," Burriello said. "What started out as a student-inspired idea has become a program of tremendous importance to the campus."