Employee Spotlight
Brooke Kaiser
Program coordinator for Public Art of the UH System
By Jessica Wyble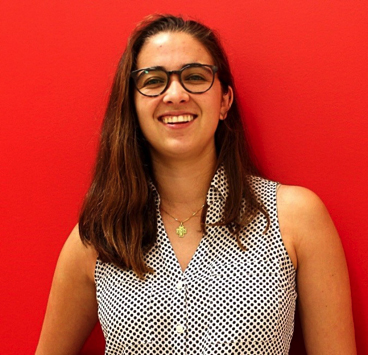 When Brooke Kaiser started college at Texas A&M University, she was very intentional about one thing – mastering the art of small talk.
A self-proclaimed bookworm who grew up spending most of her time reading or riding horses, Kaiser mainly kept to herself and a select group of friends. So to get herself out of her shell, she picked up a job at one of College Station's most popular coffee shops.
"I didn't know how to talk to people my own age," she said. "I read my way through school and in my free time I was always at the stable where everyone was much older than me. I knew that needed to change if I wanted to land a good internship or job one day."
Honing that skill was one of the best things Kaiser could have done because in her role as the program coordinator for the Public Art of the University of Houston System collection, she talks to people all day.
"I like to think that I'm the logistical side of our department," said Kaiser. "I draw up contracts, plan events and promote our work at orientations."
But her responsibilities extend far beyond that. She has a hand in everything related to the Public Art Collection. That includes helping to coordinate the group's monthly committee meetings and building relationships with on- and off-campus partners like the student tour guides to ensure everyone is up to speed on the works in the collection. She also oversees the collection's social media accounts.
"I just want to help with Chancellor Khator's charge to put the public back in public art," said Kaiser. "So many people are guilty of walking past these amazing works without thinking twice and we're hoping to change that."
While the choice to get out of her comfort zone and become more social has definitely served her well in this role, it was the decision to change her major after her sophomore year that really led her on the path to where she is today.
"After two years, I switched my major from mechanical engineering to anthropology," she said. "It wasn't that I couldn't do the work, I just wasn't interested in or excited about it and couldn't see myself doing that for the rest of my life."
Kaiser knew entering into a liberal arts degree program meant she wouldn't have a finite path after graduation, but she was OK with that.
"Somewhere along the way I started thinking I'd like to work for a University, so I kept that in mind when job searching," she said.
After graduating with her bachelor's degree in the spring of 2016, she married her lifelong sweetheart and the pair quickly moved back to Houston. Soon after, she landed a temp position within the Division of Administration and Finance, where she first became exposed to the Public Art Collection, although that was far removed from her main responsibility of helping roll out the various elements of the campus carry initiative.
It took almost two years, and two moves – one to Denver and one back to Houston – before she landed in her current role. She doesn't plan on leaving anytime soon.
"I'd love to stay with the University for the foreseeable future," she said. "My husband and I have moved around a lot with his job, so we're both ready to be settled."