STUDENT Spotlight
Raghav Singh
Electronic Access Control student employee
By Richard Zagrzecki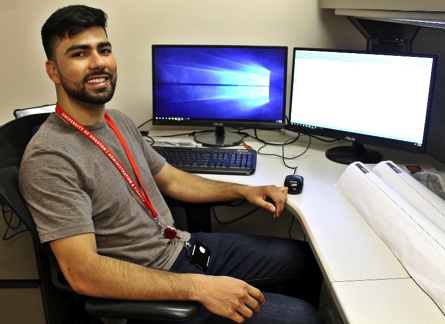 Cars are more than a way for University of Houston student Raghav Singh to get to campus -- they are his passion.
The mechanical engineering junior from Sugar Land is constantly working and tinkering around with his charcoal gray Acura RSX Type S. He and a group of friends who share the same love are preparing to show off their vehicles in a car show this coming October.
Once he graduates from UH, his ideal career path would involve working in the automotive industry, designing vehicle parts.
"I have always wanted to design engines, but I'd also like to get involved with other components, such as suspension systems or brakes," he said.
For the time being, however, he stays busy with his studies. In addition, he is a student employee in the Electronic Access Control Department, a job he has held since February. In that role, he often shadows the electronic access control specialists, who have been instrumental in the installation of a keyless access upgrade project across the entire campus.
The purpose of the project is to provide increased security and safety by deploying electronic access controls and door status monitoring/security systems across campus.
By watching the specialists and tagging along with them as they work out in the field, Singh has learned a great deal about the software and hardware necessary to making the system work.
Just recently, one of his assignments was to go around some of the buildings on campus and map out where all of the card readers are located. He has also made lists of when doors at different buildings are supposed to unlock automatically to allow public access.
"It is important to have thorough, accurate information, because there are so many card readers across campus," Singh said.
Currently, he is working on a project to reprogram and change batteries on card readers around the Cougar Place residential community.
Before he was hired for this role, he worked part-time at a coffee shop that is a 30-minute drive from campus. He wanted to find an on-campus job. One of his friends told him about this opening, so he applied for it and was hired.
Singh grew up in Sugar Land and graduated from Travis High School in the Fort Bend Independent School District. All throughout middle school and high school, he played the double bass in orchestra. He is also a second degree black belt and has a strong interest in photography.
When deciding what university to attend, his two final choices were UH and Texas Tech. However, he received a speeding ticket when driving to Texas Tech for a visit, which he saw as an omen. Plus, Houston has a much bigger car scene than Lubbock.
Last summer, he was a counselor with UH's Cub Camp program, which lets incoming freshmen spend several days camping together, forging friendships and learning more about the college experience.
He is not the first member of his family to attend UH -- his father earned an MBA here in the early 1990s.
What does Singh like the most about UH?
"I feel like the people here are really outgoing," he said. "Everyone here is nice and approachable. You could just say hi to someone and they will say hi back."