Facilities
Erica Vazquez becomes voice of Facilities
By Destinie Holiday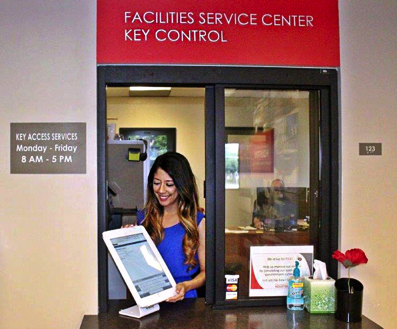 Facilities Coordinator Erica Vazquez is more than just the friendly smile that greets staff when they pick up their keys at the General Services Building. She also happens to be the new voice heard on many answering services across campus.
UH Facilities asked Vazquez to record the updated message for the FIXIT message. Once a few people heard her pleasant sounding voice, more departments throughout campus asked for her to lend her services for their recordings.
Vazquez's voice can be heard notifying callers of various departments' office hours, when they are closed for holidays or events, and also giving callers options from which to choose.
University Information Technology provides her with a script tailored to each specific department and she simply uses her desktop phone to read the message on voicemail. UIT Analyst Ray Hernandez takes the recording from the voice mail and transfers it to the departments' answering systems.
Vazquez is happy to be able to help beyond her normal job duties and plans to continue to partner with UIT on any upcoming projects.