Facilities
Lynn Eusan Park goes green with smart bins
By Emmanuella Aina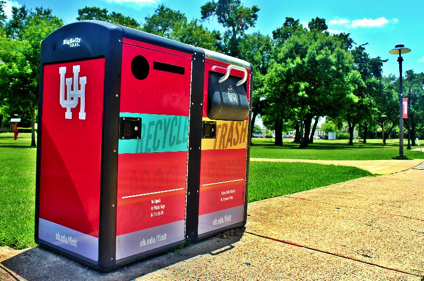 While taking a walk or driving a cart through Lynn Eusan Park, one will notice that the older trash cans that dotted the park have been replaced with smart bins to suit the aesthetic of the campus.
The change was initiated this May and completed in two weeks after Facilities decided to replace them.
The four new additions to the park are an upgrade of the old ones as they are not just trash cans, but contain a recycling component. The bins send solar-powered Wi-Fi alerts to inform UH Solid Waste when they need to be emptied. In addition, the bins were brought to the park from different locations around campus where they were not being utilized.
Supervisor of Recycling and Solid Waste Danielle C. Woods, along with Central Facilities Services Director Liliana Simmonds and Assistant Director James Ballowe, decided to replace the trash cans in order to enhance the beautification of the park as well as to continue the University's initiative of being recognized as a sustainable university.
The recycling bins will come in handy at the over 100 events that are held in the park annually.
The Solid Waste crew plans to embark on other sustainable activities. More information about those efforts will be coming out soon.