STUDENT Spotlight
Jacqueline Gonzalez Carmona
Auxiliary Services student worker
By Richard Zagrzecki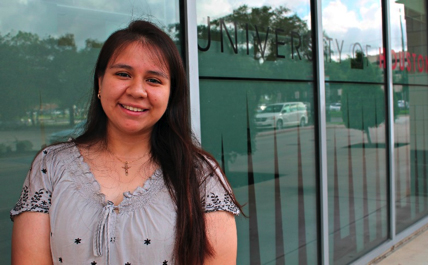 Jacqueline Gonzalez Carmona has empathy for anyone who's lost money in a vending machine. It comes with the job.
As a student worker in Auxiliary Services at the University of Houston, one of her duties involves assisting students, faculty and staff with getting a refund for those rare instances when a machine malfunctions.
"So if you go to a vending machine and you put in your money, but it doesn't give you anything in return and keeps your money, you would come into our office and fill out a refund form so you can get your money back," said Gonzalez Carmona, a senior public health major.
Another one of her duties is to walk around campus and inspect the various drink and snack vending machines. That includes making sure they are well stocked and the inventory is not past the expiration dates. She jots down notes and then contacts the vendors – Coca-Cola and Canteen – and informs them of any issues that need to be resolved.
She's held the job for the past year after finding out about it when she spotted a sign advertising the opening when she misplaced her student ID and had to go to the Cougar Card office in the Welcome Center Garage for a replacement. At the time, Auxiliary Services was officed there, but has since relocated to the first floor of Calhoun Lofts.
Although her duties focus mainly on the vending program, she also assists with other miscellaneous projects. A typical work day for her begins by checking the Auxiliary Services voice mail and email accounts for any messages left during non-business hours. Many of those are from incoming freshmen students and their parents who have questions about meal plans.
It's a job she enjoys as she works toward completing her undergraduate education and graduating in May.
After that, she plans to continue her education by earning both a law degree as well as a master's degree in public health. Her ultimate goal is to become an attorney working in the health care field.
Gonzalez Carmona grew up in Houston and graduated from Madison High School. She decided to attend UH after coming to campus one day with a friend and tagging along with him to one of his classes. It's a decision she's glad she made.
"It is an amazing university and I love it," she said.
She is the first person in her family to attend UH. She's also the first to attend a major university. She's involved with several organizations, including the National Student Speech Language Hearing Association, as well as Delta Omega Chi, a medical service society that provides opportunities for undergraduate students to serve underprivileged areas in Houston. She's also a member of Alpha Psi Lambda, a Latino-based coed fraternity organization.
She is proud of her university and loves going to as many football and basketball games as she can. She also likes to work out at the Campus Recreation and Wellness Center and jog across campus in the evenings.
What does she like best about UH?
"I just feel like it is a very inclusive university. You can go anywhere and talk to anybody. You just feel very accepted, no matter who you are," she said.