Employee Spotlight
Court Stein
Health administrator
By Mallory Doeckel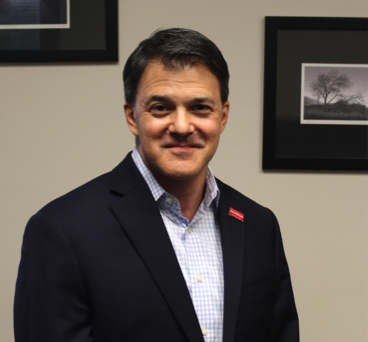 Court Stein has been the health administrator with UH's Human Resources Department for only a year and a half, but he is no stranger to the health and wellness world.
Early in his career, Stein worked in HIV prevention in Louisiana, his home state, doing AIDS education and prevention work. Later wanting to branch out and work on a wider range of health issues, he found a job creating wellness programs for students at LSU, his alma mater. He later moved on to the University of Scranton, NYU and then eventually into corporate wellness, where he developed wellness programs for employees, as he does now at UH through the POWER UP Employee Wellness initiative.
Stein's mission in his current role is creating increased awareness of health and wellness and encouraging people to be more proactive with their personal health goals.
"It's all about keeping healthy people healthy, guiding those who could be healthier on how to get there and helping those who are unhealthy get better instead of worse," he said.
His day-to-day work is focused on developing wellness programs and opportunities that suit the needs of UH faculty and staff. Stein enjoys the moments in his job where he gets to interact with people who have seen these efforts make a difference in their lives.
"I actually keep a document where I save positive feedback and thank you emails I've received from people," he said. "It gets me motivated on the tough days and keeps me going."
Previously, UH employees completed surveys about what they wanted from the wellness program offered at UH. According to Stein, their desires for programs addressing physical activity, nutrition, weight loss, emotional wellness and stress management fall right in line with recommendations of leading health professions for overall better health. This demonstrates something that Stein describes as one of the biggest challenges in his job.
"Most people know what they need to do, but the difficult part is motivating them to take action," he said. "That's why one of our goals through the POWER UP program is to create ongoing and structured programs that promote consistency and help develop accountability. The program also aims to help make the healthy choice the easy choice for employees by introducing simple things they can do daily to enhance their health and well-being."
A recent achievement for Stein was addressing UH employees' requests for more physical activity opportunities with the approval of the interim fitness release time policy at UH. This policy allows faculty and staff to get up to 30 minutes, three times per week, of leave time to exercise while at work. His hope is to grow the success of this program and to have the policy approved as a permanent one this year.
When Stein is not at work putting together the next health and wellness program, he enjoys traveling and going to the theater. He recently returned from a trip to New York City to visit with friends and see a few Broadway shows.
He has had some close encounters with Broadway stars. When he lived in New York, Stein sang in a church choir for some time.
"Broadway stars would come in as guest singers to perform solos and to sing with the choir. So I guess I can say I sang backup for Donna McKechnie," he said.
He has also had interesting experiences traveling. Not long ago he spent an entire month in Barcelona by agreeing to do an apartment swap with a woman who lived there. It wasn't until he got to Barcelona that he learned her parents actually owned the apartment building she lived in. As it turned out, she lived on the top floor of the building and had an outdoor terrace overlooking the city. He was trading hers for his tiny apartment in New York City.
"I think I got the better deal," he said with a laugh.
It's interesting to note that this entire trip can be attributed to a New Year's resolution Stein made for himself. He had regretted passing up life experiences in the past and so that year his resolution was to seize opportunities when they presented themselves and make memorable experiences happen.
As an advocate for health and wellness, if Stein could encourage others to make one change to improve their own life, what would it be?
"Get moving!" he said. "There are so many benefits associated with exercise. Being active is one of the top prescriptions for better health. Pick something you like to do and find a buddy to do it with!"