Facilities Planning & Construction
MREB construction set for substantial completion in October
By Jacquie Vargas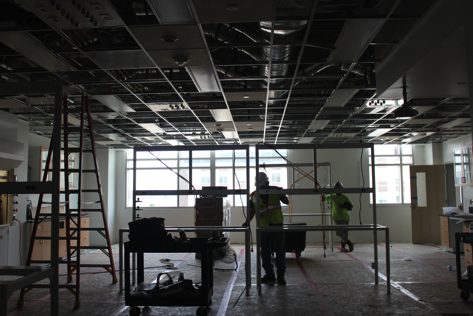 The Multidisciplinary Research and Engineering Building (MREB) located next to CEMO Hall and the Engineering Complex is on-time for its substantial completion opening in October 2016. This state-of-the-art 120,000 gross square foot building has five floors containing laboratories, pristine conference rooms, useful office space, and multiple training rooms.
The building's main entrance, located on the side facing CEMO Hall, leads directly into the lobby which evokes pride with its shining polished concrete floor, beautiful wood slat accents, and Cougar red enhancements. The fenestration elements - windows, doors, openings - were designed and placed for intentional effect. The conference rooms and breakrooms have large windows that make for an impressive scenic view and help provide ample natural lighting as colleagues meet and network.
Another building feature includes the "plug-and-play" labs. The lab furniture features moveable tables and shelving, giving the researchers versatility since the labs can be redesigned and reconfigured to accommodate specific experiments.
Overall, the building has an industrial appearance with exposed ceilings and ductwork, polished concrete floors, and wire grate accents on the staircases. Senior Project Manager Terry Hawkins remarked that the polished concrete floors will "really add to the interior aesthetic of the building". Cougar red color touches can be found throughout the hallways, making this new addition to campus feel cohesive with other buildings.
When fully completed, MREB will be ready to support the educational goals of undergraduate and graduate students by facilitating and enhancing their experiences in a research setting.
To find out more about this project, please visit FPC's Project Spotlight Page or visit UH IT's Live and Time Lapse Construction Cameras.