Facilities Planning & Construction
Basketball facility construction site doubles as classroom
By Richard Zagrzecki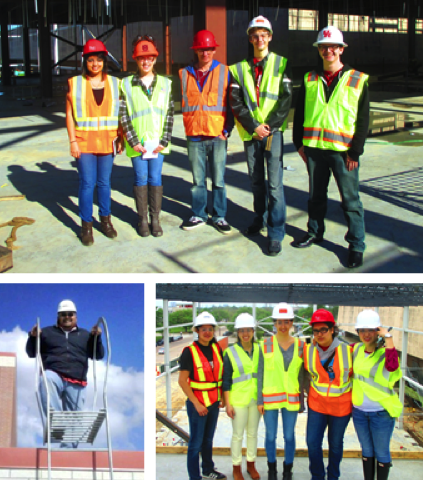 The corner of Cullen Boulevard and Holman Street is a beehive of activity as workers focus on completing what will become a state-of-the-art basketball facility.
This past spring semester, the busy construction site also doubled as a classroom for a group of UH students from the Gerald D. Hines College of Architecture, providing a unique and valuable learning experience for them.
Once a week from March through May, the students visited the site, allowing them to get lessons in the day-to-day site construction activities.
"They learned that things are a lot different in person than when you draw it on paper. They also learned it takes a team effort to build a project," said Senior Facilities Project Inspector Cesar Villagran, who was in charge of coordinating the site visits with the students.
The students included Angelica de Hoyos, Barbara Blanco Gonzalez, Cody Durain, Eric Dellafave, Gabby Custodio, Hunter Bodiford, Jana Andrews and Sabrina Aguilar. Villagran walked them through the project and explained to them the different phases of construction.
"I also went over the inspection processes and what we look for when inspecting a particular scope of work," he said. "I showed them the importance of proper coordination between architects and engineers and general contractors and subcontractors."
Contributors to some of the site visits included Adam Meech and Ryan Slott with Austin Commercial and FP&C Senior Project Manager Trent Williams.
Situated at the southeast corner of Hofheinz Pavilion, the $25 million Houston Basketball Development Facility is slated to open this fall and serve as the headquarters of men's and women's programs. The 53,000-square-foot building's first floor will have two separate basketball courts, a training room, strength-conditioning area, and non-staff lockers for graduate assistants, trainers and managers. The second floor will house the team spaces, including locker rooms, equipment rooms, lounges and film-study rooms. The third floor will comprise offices for coaches.
During their visits to the site, the architecture students would ask plenty of questions. Villagran would answer what he knew. When he didn't know the answer, he consulted with the design team from DLR and Page.
"I look forward to doing more of these in the future," he said. "It is a great mentoring and teaching opportunity."