Facilities Planning & Construction
Revamped campus natatorium set to reopen later this month
By Jessica Mize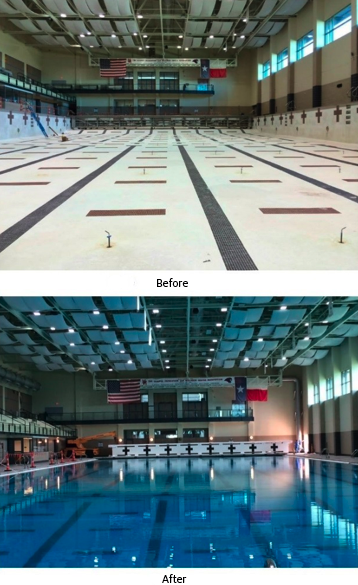 Earlier this year, over a million gallons of water were drained from the UH competition pool located inside the Campus Recreation and Wellness Center in preparation for some long overdue updates.
"The work, which began in January, consisted of a complete renovation of the pool's piping system," said Trent Williams, project manager with Facilities Planning and Construction. "Additionally, both the indoor and outdoor pools have been plastered."
In addition to the pools, the indoor and outdoor spas, which have been out of commission since 2013, also received some attention during this time, as plumbing issues that originally caused the fixtures to close nearly two years ago were corrected.
Upgrades were made to the pools' filtration, UV and chemical treatment operating systems, and the indoor competition pool received new bulkheads and starting blocks.
DivisionOne, a local commercial construction company, was responsible for all of the repairs, which cost around $8.65 million. As a result of all of the construction, the facilities are not only up to date, but also more efficient.
"Thanks to the renovations, we are now utilizing regenerative media filters in our competition pool," said Rachel O'Mara, assistant director of operations for the Campus Recreation and Wellness Center. "This means that we will no longer have to waste water when the pool's filters are cleaned. The system recycles it."
Although a large portion of the work was done behind the scenes, a time lapse video recorded near the indoor pool area helps give people a quick glimpse of what has taken place over the last few months. The effects of the unseen repairs, however, shouldn't go unnoticed when the area reopens with limited hours later this month.
"The improvements to the facility will definitely have a positive impact on not only swimmers in the pool, but also for spectators who attend aquatic competitions and events," said O'Mara. "The environment as a whole will be great."