Employee Spotlight
Vanessa Outten
Food service director
By Jessica Mize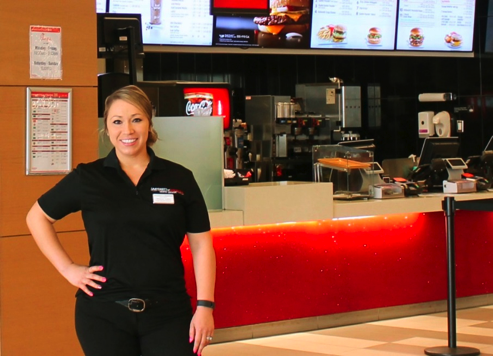 Every day, Vanessa Outten helps feed thousands of people on campus.
As food service director for UH's retail dining locations, she oversees the day-to-day operations of nearly 15 different campus eateries, including Taco Cabana, Einstein's Bros. Bagels, Subway at the Lofts and the food court locations in the Student Center and Satellite. The demands of the job can make for a busy schedule, but Outten loves every bit of it.
"Our food courts can get very busy and packed, but I wouldn't want it any other way," said the California native. "I like working in high-volume environments."
While her list of duties can include everything from crunching numbers for budget reports to jumping on the service line and assisting customers on location, her ultimate responsibility is to ensure each location is providing the UH community with quality food and fast, reliable and friendly customer service, all while adhering to its specific national brand standards.
"Although all of the locations on campus fall under the umbrella of UH Dining, each restaurant has to follow specific practices and procedures to ensure it is consistent with its national chain," she said.
Promoted to the position just under a year ago, Outten, who has over a decade of industry experience and holds a bachelor's degree in hotel, restaurant and tourism management from New Mexico State University, is working hard to master her new role.
"Every day I'm at work, I learn something new," said Outten.
Though this title is a new one for her, it's not her first go-round with UH Dining. Before her promotion, she worked as an assistant food service director with the department for a little over a year.
"I have been with UH dining for over two and half years now," said the ServSafe certified professional. "I enjoy it very much."
Before finding her way to UH, Outten had management stints with Red Lobster and Minute Maid Park – jobs she never would have had, had she not taken a leap of faith to move to Texas after graduating college in 2008.
"I was recruited by Red Lobster right after graduation for a management position in Houston," she said. "I had never even visited the city, but I accepted and moved within two weeks of the offer. Although I did not know a soul in Houston or have any family nearby, I do not regret it at all because it got me where I am today."
Regardless of which company she's with, Outten is confident she's in the right profession for her.
"From my first job in a restaurant at 16 to starting my professional career as a restaurant manager, the food industry has always been a part of me," said the happily married mother of one. "I love the hospitality side of my job. It's definitely my passion."