Student Spotlight
Yunchan "Kevin" Shin
Facilities Services student worker
By Richard Zagrzecki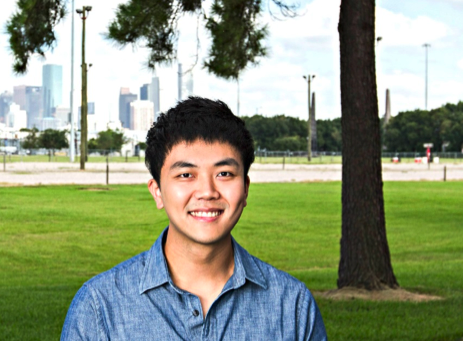 Yunchan "Kevin" Shin's path to the University of Houston was not a straight one.
The junior computer information systems major from Seoul, South Korea, first came to Texas six years ago to learn English at an academy in Austin. Once that was complete, he came to Houston and attended Houston Community College.
After graduating, he returned to his home country to serve a little more than two years of mandatory military service, which included working as a truck driver and then in the administrative sector.
"It was a great experience. I learned a lot of valuable lessons, such as leadership, responsibility, sincerity and patriotism," he said.
Shin returned to Texas following his military service so he could pursue a bachelor's degree from UH. Besides his studies, much of his time is devoted to his student worker job within Facilities Services. He works under the supervision of Ed Zimmeth, providing computer support for department staff.
Although the job was a perfect match for his skills and interests, he was not sure he would get it. He had applied for several other campus jobs without much luck, so he did not think he would get a reply back. But he did and after an interview, it was offered to him. That was two months ago. Now, if someone in Facilities Services has an issue with their computer, there's a good chance he'll be the one working to diagnose and correct the problem.
"I am really enjoying my job," Shin said. "I love it when people say, 'Thank you so much Kevin' whenever I solve their technical problems."
He is a spiritual person with a strong belief in God.
"I truly believe that everything that I do and everyone that I meet is put in my path for a purpose," he said. "I believe my work is going to fill a large part of my life and the only way to be truly satisfied is to do what I believe is great work."