Employee Spotlight
Rogers Epps
Evening Manager for Parking and Transportation
By Jessica Mize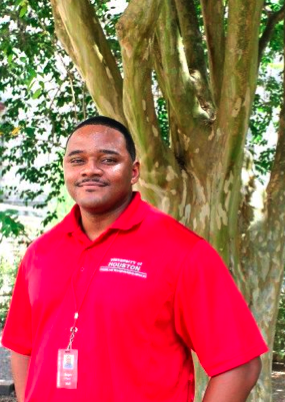 When the clock strikes 5 p.m., employees all around the country stop what they're doing, shut down their computers and go home for the day. But for Roger Epps, the new evening manager for Parking and Transportation Services, 5 p.m. just means he's hit the halfway point of his shift for the day.
"I start my day on campus around 1 p.m. and work until about 10 at night," said Epps, who doesn't seem to mind the out-of-the-ordinary shift one bit. "The shift isn't bad at all, but my body is definitely still adjusting to the new sleep schedule."
Although the title he now holds is new, Epps is far from unfamiliar with the campus. He's been with the University for seven years, working first for parking enforcement before switching gears to work with the security team on campus – a role he held for the last year.
"I was drawn to the security position because it gave me the opportunity to help people in a more direct way," said Epps. "Whether I was escorting someone to their vehicle or assisting with a tire change I felt like I was really making a difference on campus."
Epps brings that same helpful mentality to his current role.
"My primary responsibility as a field manager is to ensure that operationally everything is running smoothly, but I never hesitate to stop and help anyone who needs it; it's actually my favorite part of the job," he said.
Originally from Fort Worth, Epps made the move to Houston back in 2006 to attend college at Texas Southern University. He chose to pursue a degree in fine arts, as he's always had a knack for drawing, something he still makes time for when he can.
"From charcoal to graphite pencils, I've tried it all when it comes to drawing," said the TSU alum. "My big project now is learning how to paint. There's so much you can do with it and it's harder to control, so I'm working on those skills right now."
Eventually, Epps hopes to pursue a master's degree in industrial design and put his artistic abilities to the test, but in the meantime he's happy to be working with Parking and Transportation Services again.
"I'm really glad I got this opportunity," said Epps. "I really love it here."