Daugulis Named 2014 ACS Cope Scholar

Award Recognizing Excellence in Organic Chemistry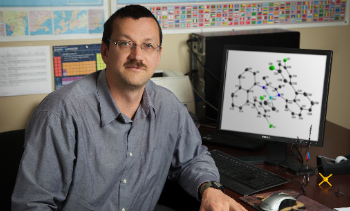 Olafs Daugulis, associate professor of chemistry at the University of Houston, was named one of the ten American Chemical Society (ACS) Arthur C. Cope Scholar Award recipients for 2014. The award, limited to 10 recipients each year, recognizes and encourages excellence in organic chemistry.
Cope Scholar Awards, sponsored by the Arthur C. Cope Fund, include a $5,000 award, a certificate, and a $40,000 unrestricted research grant. Each recipient will deliver an awards address at the Arthur C. Cope Symposium during the Fall ACS National Meeting in 2014.
"The Cope Scholar Award is the fifth major national/international award Olafs has won," said David Hoffman, UH chemistry department chair. "We're proud to have him as a member of our faculty and to have his excellent work recognized by the American Chemical Society."
Previously, Daugulis received an NSF CAREER award, an Alfred P. Sloan Fellowship, a Camille Dreyfus Teacher-Scholar Award, and the Norman Hackerman Award in Chemical Research. He also won a UH Teaching Award in 2010.
Other Cope Scholars named for 2014 are Richard N. Armstrong, Vanderbilt University; Abigail G. Doyle, Princeton University; Raymond L. Funk, Pennsylvania State University; Seth Herzon, Yale University; Jeffrey N. Johnston, Vanderbilt; Gary E. Keck, University of Utah; Benjamin List, Max Planck Institute for Coal Research, Germany; Hung-wen (Ben) Liu, University of Texas, Austin; and Tomislav Rovis, Colorado State University.
- Kathy Major, College of Natural Sciences and Mathematics