Bott Selected for NSM's Excellence in Teaching Awards

Award Recognizes Faculty who Inspire, Engage and Challenge their Students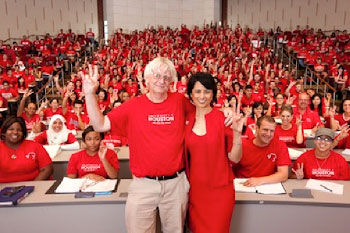 Inspiration, passion, hands-on, mentor – these words have all been used to describe the 2013 winners of NSM's John C. Butler Excellence in Teaching Award.
Simon Bott, instructional professor of chemistry, is one of the 2013 recipients of the Butler Excellence in Teaching Award. Established in memory of former NSM Dean, John Butler, the award recognizes faculty members who best engage and challenge their students and who share their enthusiasm for the subject matter they teach. Robert Stewart, professor and Cullen Chair in exploration geophysics, is the other Butler award recipient.
Each year, the Butler award goes to one instructional faculty member and one tenured/tenure-track faculty member and includes a $5,000 prize. Bott and Stewart received enthusiastic letters of nomination and support from faculty members, current students, and former students.
Joining UH in 1997, Bott amazes faculty and students alike with his seemingly endless energy and enthusiasm. Despite his rigorous standards, retention rates in his non-science major and science major classes are astonishingly high – 95 and 85 percent respectively. Each year, his seven introductory chemistry classes are the first filled at registration. Bott is known for his dedication to helping students achieve academically and to become engaged members of the UH and Houston communities.
A nomination letter from a former student described Bott's uncanny ability to time and again "inspire me to do better and be better than who I am." Other letters noted how he "taught me the value of my education and in how I could use it to help others" and that "he inspired us in the most simple and effective way – by example." Bott was recognized in 2012 by the Minnie Stevens Piper Foundation as one of the state's outstanding university professors.
Bott's award was announced at the NSM Tribute to Scholars, Leaders and Partners in Excellence Luncheon.
- Kathy Major, College of Natural Sciences and Mathematics