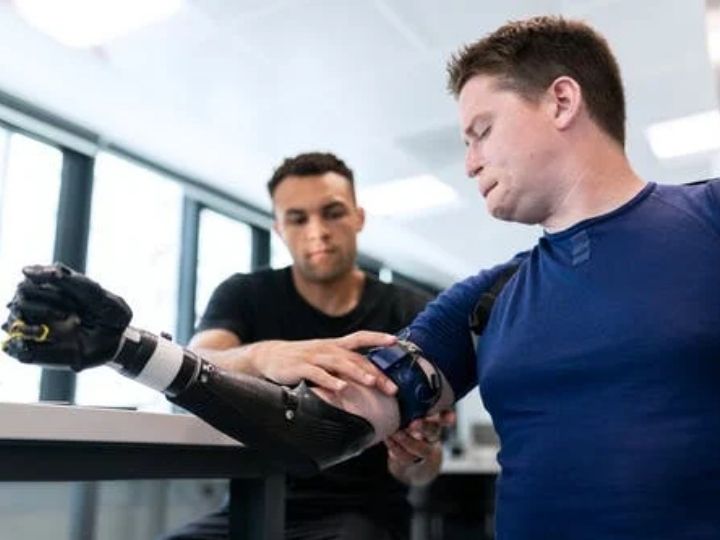 A University of Houston biomedical engineer has been awarded $2.8 million by the National Institute of Neurological Disorders and Stroke to improve the control of robotic limbs and provide natural sensory feedback from robotic prostheses to amputees. Mario Ignacio Romero-Ortega, Cullen Endowed Professor of biomedical engineering, will accomplish this by creating next-generation advanced peripheral nervous system (PNS) interface electrodes.  
The peripheral nervous system consists of all neurons that exist outside the brain and spinal cord and connects the central nervous system to the rest of the body. After amputation, peripheral nerves remain active and can be connected to electrodes and used to record the movement intent from the user and provide feedback sensation from it. 
"Our study will use an innovative regenerative multi-electrode interface with ultra-small recording sites using our recently developed ultra-thin multielectrode array and incorporate molecular guidance cues to influence the type of sensory neurons at the neural interface," said Romero-Ortega. "This Regenerative Ultramicro Multielectrode Array (RUMA) is designed to discriminate between motor and cutaneous neural interfacing by combining it with molecular guidance to biologically engineer the content of sensory-motor axons at the electrode interface." 
With profound consequences, approximately four million amputees globally live with limb loss. Those fortunate enough use the electrically-powered prostheses guided by surface electromyographic signals from intact muscles in the residual limb for movement. But arm amputees often discontinue use due to the lack of sensation from the prosthetic hand, which makes it difficult to operate. Also, current prosthetic devices use electrodes implanted directly into the residual nerve, for sensory feel and prosthetic control. The method has its drawbacks including electrode failure, signal deterioration over time, and eliciting abnormal signals such as "stings or tingles" in users that discourage their use. 
In collaboration with Stuart Cogan from University of Texas at Dallas and Joseph Francis at UH, this study will demonstrate the benefit of using RUMA for selective recording from motor axons. According to Romero-Ortego, this method will improve the control of robotic prosthetics by stimulating sensory axons selectively to provide a more natural control and sensation from bionic limbs.  
"This advancement in peripheral neural interfaces for amputees will reduce the cognitive burden for users of robotic prosthetics and decrease the abnormal sensations associated with electrical stimulation in the PNS," said Romero-Ortega.  
Research reported in this publication was supported by the National Institute Of Neurological Disorders And Stroke of the National Institutes of Health under Award Number R01NS124222. The content is solely the responsibility of the authors and does not necessarily represent the official views of the National Institutes of Health. 
---