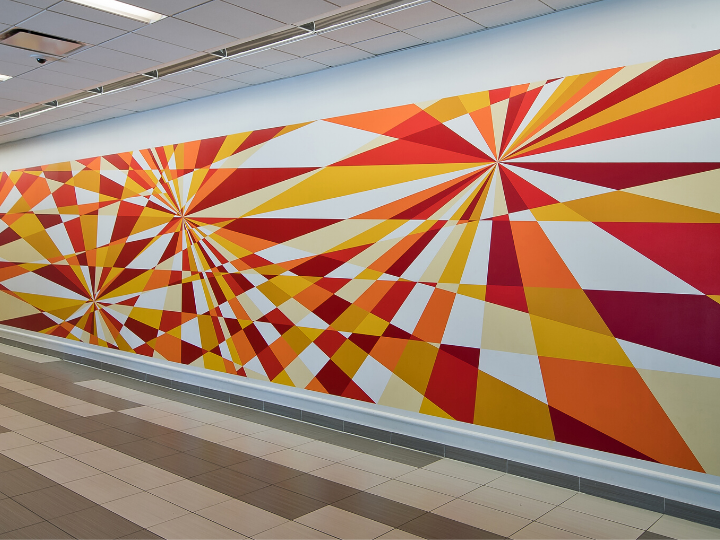 For Aaron Parazette, being an artist in quarantine has made him wonder how his work will ultimately reach the outside world. Known for large scale, bold abstract paintings, the University of Houston School of Art professor acknowledges the impact the COVID-19 pandemic has had on the quintessential art studio.
"Most of us are seeing art through a computer portal now. I think things are going to change enormously, which could create a lot of opportunities for artists," he said while speaking to an audience of nearly 100 listeners during a virtual, interactive conversation hosted by Public Art of the University of Houston System (Public Art UHS). Parazette's paintings, "Remembering Next Summer," (2015) and "Free Dive," (2015) are part of the Public Art UHS collection.
The discussion via Zoom was the first in a series of conversations taking place this summer called "On Site x Off Site."  Each session pairs a Houston-based and national artist from Public Art UHS's roster to discuss public art's impact on studio practice, their UHS commissions and how isolation is influencing current projects.
"What we've found is that our artists are welcoming these opportunities to enter into meaningful conversations at a time when it has become quite challenging for everybody to connect in person. I think we are all gaining an appreciation for this way of interacting virtually," said María C. Gaztambide, Public Art UHS director and chief curator. "Certainly for us, this new sphere of engagement provides opportunities for exchange with artists that we hadn't been able to bring to Houston before. And, at the same time, it is also allowing us to grow our audience well beyond Houston. That too is very exciting."
On Tuesday, July 21 from 5-6 p.m. audiences will get another chance to participate in an "On Site x Off Site" discussion.  Vincent Valdez, whose painting "One in a Million," (2007) located at the University of Houston-Downtown, will join Adriana Corral, a Houston-based artist known internationally for her installations, performances and sculptures that symbolize universal themes of loss, human rights and erased historical narratives. Mark Cervenka, director of the O'Kane Gallery and associate professor of art at UHD, will moderate the conversation. Click here to RSVP.  A fourth conversation is being planned around artists featured in the collection at University of Houston-Clear Lake.
Prior artist talks have spotlighted Margo Sawyer, Jacob Hashimoto and Alyson Shotz.  You can access their recordings by visiting Off Site, a new hub available through the Public Art UHS website.
Creating a digital framework
Public Art UHS's mission is to create a collaborative ecosystem where cutting-edge public art, higher education and diverse communities converge. So, the challenge for Gaztambide and her team during this time was how to bring these communities together in a safe, socially distant environment.
The ideas came as fast as a swipe on Instagram or a "like" on Facebook, as the team quickly pivoted to moving one of the oldest, most significant university public art collections in the nation into a virtual realm. The result was a new framework that deepens the digital connectivity with arts patrons and enthusiasts.
In addition to the "On Site x Off Site" artist talks, Public Art UHS has expanded its popular public art tours and public art studio sessions, as well as introduced new and unique ways to incorporate art into our daily lives with themed self-guided tours and wellness programs inspired by the collection. This and other content — interactive experiences, art-making tutorials, videos, or deep dives into Public Art UHS archives and publications — can be enjoyed at any time and from anywhere though Off Site.
"Off Site is a digital space that combines all of our programs and activities," Gaztambide explained. "All of our intellectual direction, our programs and our artworks have come together in this new sphere of interacting with our public which in turn is enabling us to reach audiences globally. No matter the scenario, Public Art UHS will always be free and open to the public."
---