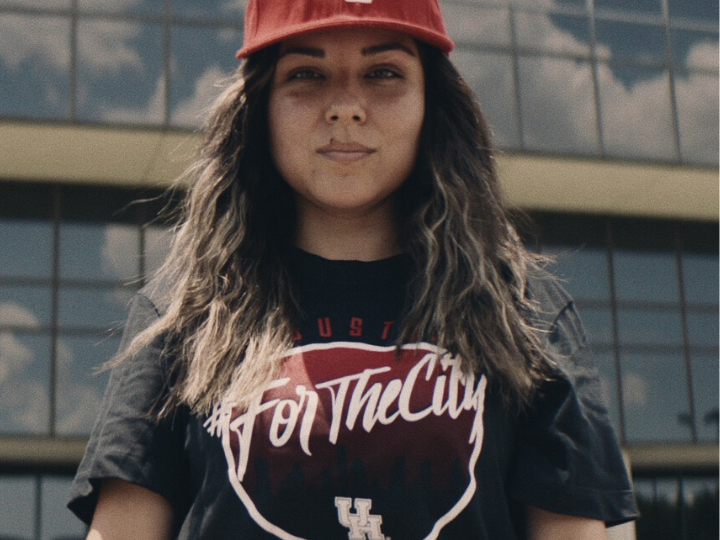 In an effort to support students in need during the COVID-19 pandemic, the University of Houston today is launching a special "For the City" shirt and designating the royalty proceeds from sales to the Cougar Emergency Fund.
UH's 'For the City' merchandise program, a collaboration with Jordan Brand and the University's exclusive trademark licensing agent, CLC, was developed to more closely link the University to its greater Houston community through a featured shirt each year. While the product collection traditionally centered around basketball season, the current global crisis provided an opportunity to shift the schedule and leverage product sales to assist Houston students. The 12% royalty UH earns from each t-shirt sold will be donated to the Cougar Emergency Fund.
"Our 'For the City' merchandise collection has always been a special program for the University and our city, and now it has the opportunity to positively impact our students directly," said Richard Walker, vice president for student affairs and enrollment services. "The Cougar Emergency Fund is an important source of relief for our students who are struggling financially as a result of the pandemic, and we hope our fans and community will purchase the shirt and support UH students who need assistance to complete their college degree."
The Cougar Emergency Fund provides assistance to current students who have an extraordinary financial need or who find themselves dealing with a personal or family emergency that is placing a burden on paying for school-related costs. The fund is designed to be a short-term relief fund to help students pay for expenses that might otherwise force them to leave the University of Houston and was activated to aid students facing challenges resulting from the current COVID-19 pandemic. The Cougar Emergency Fund was last activated during Hurricane Harvey.
The "For the City" shirt is available now at a variety of retail outlets, including the University of Houston Bookstore, Fanatics/UH Team Shop, Dick's Sporting Goods, Academy Sports, and Fanatics.
---