Images, documentaries and information about the nation's first educational television station are now available to the world with just the click of a mouse. The University of Houston's digital library has digitally preserved 45 films and more than 200 images of the history of KUHT-HoustonPBS. The effort was made possible by a $20,000 TexTreasure grant provided bythe Texas State Library and Archives Commission and the Institute of Museum andLibrary Services.
"This university started the first educational television station in the country.  KUHT is a piece of our history and this effort celebrates that," said Michele Reilly, head of UH digital projects.  "This collection shows that when the television medium was brand new, we were in the forefront.  We were making history."
The films, ranging from Houston Independent School District board meetings from the 1950s to documentaries about Houston and Houstonians, were deteriorating in their tin storage containers.
"The 16mm films and cassettes were stored in a variety of environmentally questionable spaces, but found a permanent home with the University Archives as part of the UH Libraries' Special Collections in 1996," said Dick Dickerson, university archivist. "Because of their fragile condition and a scarcity of the needed equipment, the contents were inaccessible and on the verge of irreversible degradation. A strong vinegar smell was undeniable evidence of that."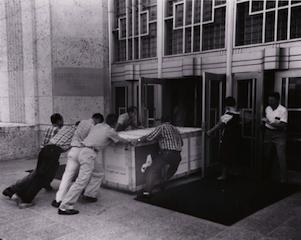 Visitors to the digital library at http://digital.lib.uh.edu/ will find images of workers moving television equipment through the doors of the E.Cullen building — its first home in the center of the UH campus — as well as local cultural events and civil defense preparations.  There are images of famous guests, such as comedienne Phyllis Diller and children's television host Fred Rogers.
"We appreciate the University of Houston's work in preserving an important part of our station's history," said Patricia Torres-Burd, executive director of contentfor KUHT. "Now future generations can access content that would have been lost forever."
"Aside from the content of the productions, our collaboration has served to preserve and make accessible the early 'fruits' of these early techniques, technologies and media formats, essentially saving a small bit of the flavor of those decades – something that is irreplaceable," Dickerson said.
Reilly says the collection is an important window to history and illustrates how important television and video has become in retelling that history.  She's hopeful that not only students access the information, but teachers and researchers.
"It's fascinating, and we need to make surethat it's available to UH, to Houston and the world," she said.
View the KUHT collection at http://digital.lib.uh.edu/cdm4/about_collection.php?CISOROOT=/p15195coll38
View the UH Moment at http://www.youtube.com/watch?v=2lrIw6VSUBU
View a December 1956 board meeting from theHouston Independent School District in which they discussed integration: http://digital.lib.uh.edu/cdm4/item_viewer.php?CISOROOT=/p15195coll38&CISOPTR=305&CISOBOX=1&REC=6
View a documentary about boxer Jack Johnson with commentary from UH professors and Galveston residents: http://digital.lib.uh.edu/cdm4/item_viewer.php?CISOROOT=/p15195coll38&CISOPTR=301&CISOBOX=1&REC=12
---