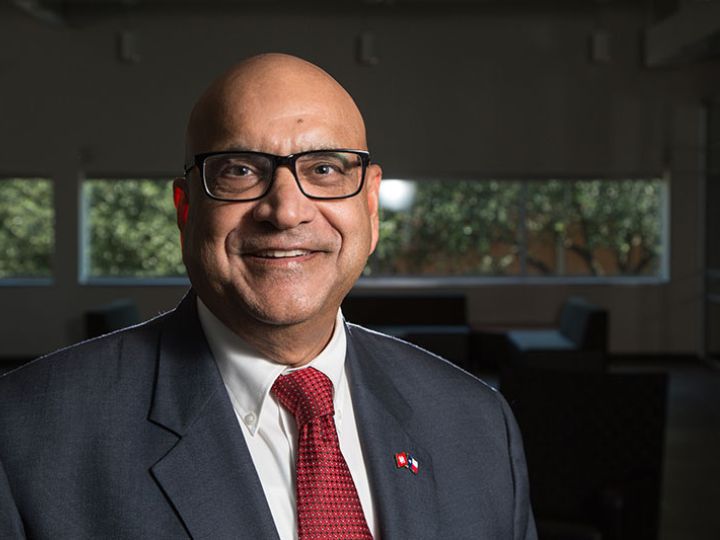 University of Houston Distinguished Professor of Petroleum Engineering Ganesh Thakur has been elected as the next vice president, and eventual president, of the Texas Academy of Medicine, Engineering, Science and Technology (TAMEST). The organization brings together the state's "best and brightest" scientists and researchers to foster collaboration and advance research, innovation and business in Texas.
Thakur — the first UH faculty member ever elected to lead TAMEST — will help coordinate and guide the board of directors with strategic planning, programs and communication. He will serve a two-year term as vice president beginning in 2023 before becoming president in 2025. TAMEST membership includes all Texas-based members of the National Academies of Sciences, Engineering and Medicine, the state's nine Nobel laureates and 18 member institutions, including the University of Houston.
"Texas is home to some of the most brilliant minds in the world and I'm honored and excited by this opportunity to strengthen collaboration and advance innovation across the state in fields critical to our continued growth and development," said Thakur, who has been a member of the organization since 2016, most recently serving as treasurer. "TAMEST is a scientific and biomedical intellectual engine for the state, and I am passionate about its mission to benefit public good and business."
A member of the National Academy of Engineering and the National Academy of Inventors, Thakur is a globally recognized pioneer in carbon capture, utilization and storage (CCUS). His patent on forecasting the performance of water injection and enhanced oil recovery (EOR) using a hybrid analytical-empirical methodology provided a much faster approach and served as an alternative to more time-consuming reservoir simulation. His team continues to research CCUS employing world-class lab research, simulation, machine learning and artificial intelligence.
UH recruited Thakur in 2016 with a grant from the Texas Governor's University Research Initiative (GURI). He joined as director of UH Energy Industry Partnerships after almost four decades working in industry at Chevron, where he served in several leadership roles, including vice president of reservoir management.
Thakur is leading the charge to help the University of Houston emerge as the foremost energy university and his efforts are having an immense impact. Under his guidance, UH researchers have performed extensive research on reservoir management and carbon capture and sequestration (CCS). In a $5 million partnership with Oil India Limited, one of India's national oil companies, Thakur's team helped capture carbon dioxide from petrochemical plants to boost oil recovery in several fields in the Indian state of Assam. The project is targeted to help reduce the country's carbon footprint and increase its ability to fulfill its energy needs.
"Dr. Thakur's leadership, passion and cutting-edge research have been instrumental in positioning the University as a strategic partner to the energy industry," said Ramanan Krishnamoorti, UH vice president of energy and innovation. "His extensive knowledge and expertise will be of great benefit to TAMEST and the state of Texas. I sincerely congratulate him on this well-deserved appointment."
"We fully support Dr. Thakur's involvement in this key leadership position which is critical to advancing innovation across our state. He has an incredible passion for teaching and collaboration which will be a great asset to the TAMEST," said Joseph W. Tedesco, Elizabeth D. Rockwell Dean of the Cullen College of Engineering.
Thakur earned his doctorate in petroleum and natural gas engineering (PNGE) from Pennsylvania State University in 1973, after earning master's degrees in mathematics and PNGE there. He also has an M.B.A. from Houston Baptist University and received his bachelor's degree in petroleum engineering from IIT (ISM) Dhanbad in India.
---