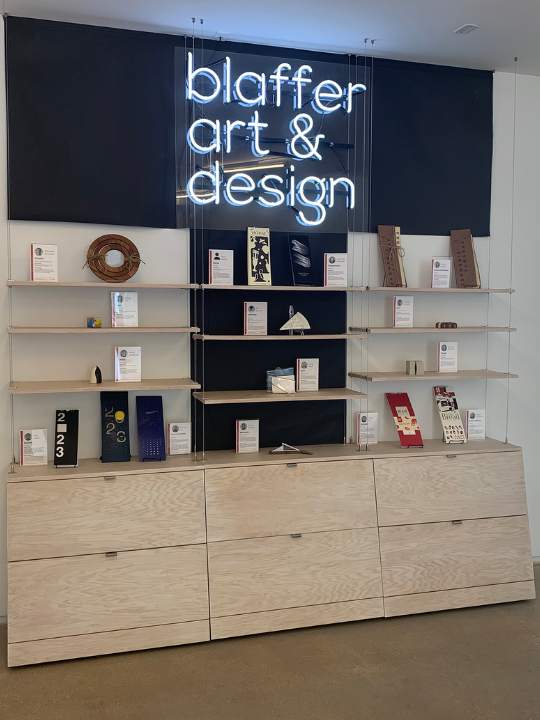 University of Houston students have the opportunity not only to display their art and design pieces at the Blaffer Art Museum on campus, but the chance to sell their work.
It is made possible through Blaffer Art and Design, a unique platform for graphic design and industrial design students to produce limited-edition art and design objects that are exhibited and sold in a boutique-exhibition style setting at the Blaffer museum. The students' design objects will be on display at a celebration of Blaffer Art and Design at the museum on Thursday, April 27, from 5 p.m. to 6:30 p.m.
Blaffer Art and Design features objects that creatively marry design, art and function such as candle holders, chopstick stands, napkin holders, trivets and calendars. The items were assembled by hand and are designed to be affordable and accessible, yet the design edition size is always limited. In doing so, Blaffer Art and Design is both exclusive and inclusive, and will welcome a new series of objects every year.
"I started this project during my first year in the graphic design program," student Dilruba Koc said. "Although slightly intimidating, presenting my design to a panel as if I was pitching to a client was one of the biggest takeaways. I learned a lot throughout that process."
Blaffer Art Design is weaved into students' course curriculum as a product development assignment. Students develop the product from start to finish and present their respective designs and budgets to a selection panel. This exercise allows students to experience a real-world scenario as if they were pitching to a client.
After products were pitched, the panel selected a handful of designs to be fully funded and developed thanks to support from the Students Fees Advisory Committee and the Cougar Initiative to Engage, as well as Judy Nyquist, a member of the Blaffer Art Museum's advisory board. Students are paid an honorarium, and the Blaffer museum covers all the related production and fabrication costs. Sales from the project are re-invested into Blaffer Art and Design and the next wave of student designers.
Initially launched in 2013, Blaffer Art and Design successfully operated for two years before going on hiatus. Now, it looks to the future with a refreshed model. The objects will be on display through April 30. Learn more about Blaffer Art and Design.
Who: Student-produced design and art objects 
What: On display and for purchase at Blaffer Art and Design celebration
When: 5 p.m. – 6:30 p.m. Thursday, April 27, 2023
Where: Blaffer Art Museum, 4188 Elgin St., Houston, TX 77204.
---