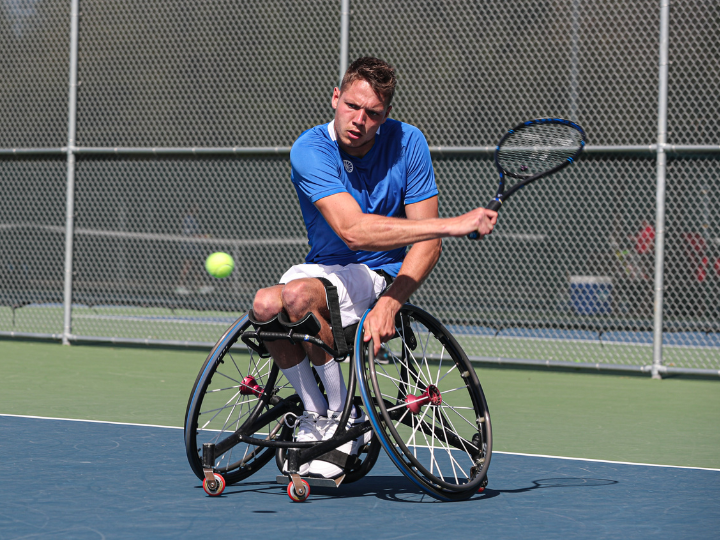 The University of Houston's Adaptive Athletics program will host the 8th annual Cougar Open wheelchair tennis tournament presented by Disaster Recovery Services on Thursday, April 20 through Sunday, April 23 at the Memorial Park Tennis Center.
Nearly 100 players from 12 countries will compete in the tournament that is solely organized and hosted by UH students in the Adaptive Athletics program, a class and student organization in which students lead and host large disability sports events and develop programming.
With dozens of elite and recreational wheelchair tennis athletes across the country and around the world, along with hundreds of volunteers over the span of four days, the tournament serves as a huge learning experience for students.
"This event allows students the opportunity to be educated on disability in a way they never have before," said Michael Cottingham, director of Adaptive Athletics and associate professor of sports administration. "They're going to leave here being more informed about disability, more accepting about disability and being able to be an advocate for those with disabilities."
The event will feature local player Jose Arriaga, who represents Mexico, his home country, and is the highest-ranking Mexican player in the world. He's ranked 32 in the quad division. Nick Tijerina, a current UH student, will also compete in this week's tournament.
A $14,000 prize will be split among finishers in the professional men's, women's and quadriplegic divisions. The event is co-hosted with the Dallas Wheelchair Tennis Club.
Who: Professional and recreational wheelchair tennis players (international and U.S.) and UH student organizers and volunteers
What: Wheelchair tennis tournament
Where: Memorial Park Tennis Center, 1500 E. Memorial Loop, Houston TX 77007.
When: Thursday, April 20 through Sunday April 23. 9:30 a.m. – 5 p.m. Thursday; 9:30 a.m. – 7 p.m. Friday; 9:30 a.m. – 5 p.m. Saturday; 9:30 a.m. – 1 p.m. Sunday.
---