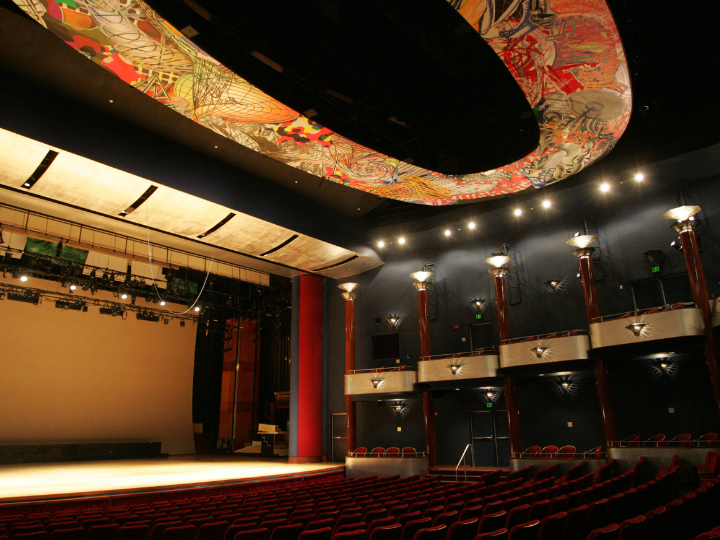 The Moores Opera Center at the University of Houston's Kathrine G. McGovern College of the Arts announces its 2022-23 season, featuring three productions. This season is the first programmed under recently appointed Artistic Director Lawrence Edelson and promises to be one of the school's most diverse to date.
The season will open in October with Philip Glass and Jean Cocteau's opera in film, "La Belle et la Bête." Cocteau's classic 1946 film adaptation of "Beauty and the Beast" comes to life anew with a beautiful and arresting operatic score by Glass, performed live. UH welcomes Michael Riesman, who served as the musical director of the Philip Glass Ensemble since 1976, as guest conductor for the production. Maestro Reisman will be joined by multi-instrumentalist and managing member of the ensemble, Andrew Sterman, who will be a guest artist in residence to assist with musical preparation, providing coaching and master classes for students involved in the production. This special residency provides the opportunity for Moores singers and instrumentalists to learn the traditions and performance practice associated with Glass's work directly from musicians who have worked with the iconic composer for decades.
To toast the new year in January, the winter production will raise a glass to comedy and decadence with "Die Fledermaus," the quintessential Viennese operetta. The score by Johann Strauss Jr. is full of memorable melodies and swinging waltzes; the libretto by Karl Haffner and Richard Genée is full of comic intrigue. Lawrence Edelson will serve as director and will be joined by internationally acclaimed guest conductor, Viswa Subbaraman.
To close out the season, the opera center's spring production will be Osvaldo Golijov and David Henry Hwang's critically acclaimed "Ainadamar." It will be the Houston premiere of the opera. Through the memories of actress and muse Margarita Xirgu, "Ainadamar" (the Spanish pronunciation of the Arabic name Ayn al-dam, meaning "The Fountain of Tears") explores the life and work of playwright and poet Federico García Lorca, whose anti-fascist stance and open homosexuality led to his death in 1936 at the hands of Francisco Franco's Nationalists during the Spanish Civil War. Combining classical singing with flamenco dance and song, this new production will be directed by Edelson, with choreography by Edelson and M. Gabriela Estrada, an acclaimed flamenco scholar who joined the UH faculty this fall as an assistant professor of dance. The guest conductor for this production will be announced later this fall.
Lawrence Edelson, who curated this season's offerings, joined UH as artistic director of the Moores Opera Center and Professor of Practice this fall. A critically acclaimed stage director, Edelson is the founder of American Lyric Theater in New York City. He comes to the University following his highly successful tenure as artistic and general director of Opera Saratoga. As a stage director, Edelson's productions have been seen at Florida Grand Opera, Minnesota Opera, Fort Worth Opera, Wolf Trap Opera, Virginia Opera, Opera Santa Barbara, Hawaii Opera Theater, Michigan Opera Theater (Detroit Opera), Boston University, and Manhattan School of Music, among others.
"The Moores Opera Center season is selected each year to highlight the talents of our students and to provide them with opportunities to be exposed to a diverse repertoire that embraces a wide variety of musical and theatrical styles," Edelson said. "At the same time, our student productions provide an inexpensive way for the public to see extraordinary performances by gifted emerging artists. When you come to see an opera production at Moores, you will not only be entertained, but you will also be experiencing the future of opera. From classics to premieres, there is something for everyone in the Moores Opera Center season. We look forward to welcoming you!"
All productions will take place in the Moores Opera House, featuring students from UH's nationally acclaimed program. Productions at Moores provide undergraduate and graduate students the opportunity to perform under the expert guidance of UH faculty and guest artists.
The 800-seat opera house is one of the finest purpose-built opera theaters in the country, providing young singers an ideal environment in which to perform and advance their craft; audiences are treated to a beautiful, comfortable and intimate theater in which they can see some of the most exciting emerging talent in the country.
Performance Dates:
La Belle et la Bête (Glass/Cocteau)
October 20, 21 and 22 at 7:30 p.m.
October 23 at 2 p.m.
Die Fledermaus (Strauss Jr./Haffner & Genée)
January 26, 27 and 28 at 7:30 p.m.
January 29 at 2:00 p.m.
Ainadamar (Golijov/Hwang)
April 13, 14, and 15 at 7:30 p.m.
April 16 at 2:00 p.m.
Tickets
General Public - $25; Staff/Faculty/Alumni - $20; Seniors and Students - $20
Contact the KGMCA Box Office at 713-743-3388 or purchase tickets online at: https://kgmcaboxofficemusic.universitytickets.com/
---