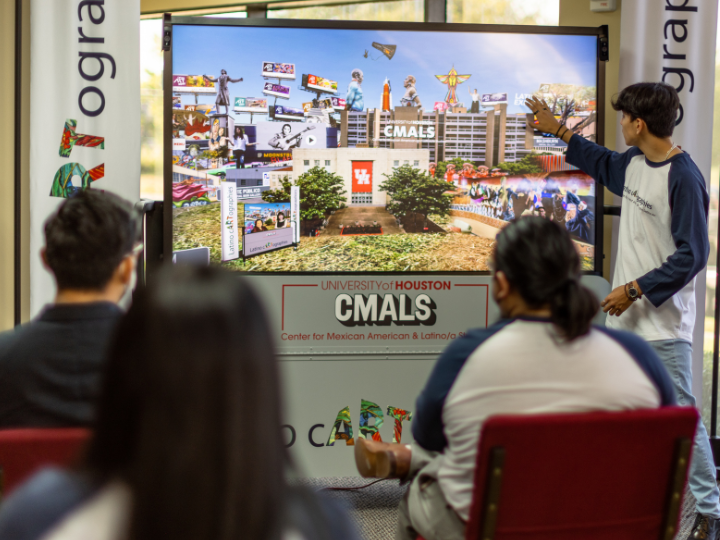 Imagine traversing Greater Houston's dynamic and expansive Latino visual art scene with a simple swipe of a finger. Latino cARTographies, a new interactive and portable digital board developed by the University of Houston's Center for Mexican American and Latino/a Studies, allows users to experience Latino art in seven communities, and other parts of Houston, like never before.
The ease of access is exactly what the creators Pamela Anne Quiroz and Juana Guzman had in mind when they designed the innovative, bilingual public display, which maps more than 180 artists, 2,000 pieces of art, 80 landmarks, 17 arts organizations and other sites of importance to Houston's Latino communities. True to its name, Latino cARTographies maps the past, present, and future of Houston's Latino visual art. 
"Latino cARTographies is a permanent yet dynamic visual archive designed to educate and engage the public," said Quiroz, director of CMALS, UH professor of sociology and director of the Inter University Program on Latino Research. "It merges art with technology to address the historic inequities of Houston's underserved, underrepresented Latino artists, arts centers and communities. It presents an alternative to the traditional ways in which people have accessed art and culture."
The board is the creative output of Quiroz, Guzman, the CMALS research graduate team at UH's College of Liberal Arts and Social Sciences, and International Gibson Group. It was unveiled on September 29.
"I believe the project will have far-reaching, sustainable benefits for the Latino communities of Houston," said Guzman, former Vice President of the National Museum of Mexican Art, Bloomberg Philanthropies national arts strategist, and co-founder and former president of the National Association of Latino Arts and Culture. "Not only is this project unique, but it affords an opportunity to fill a knowledge gap and serve Latino communities in one of the most accessible manners that I have encountered in my 40-year arts career."
The idea for Latino cARTographies sparked when Quiroz organized the city of Houston to host the country's premier Latino art event, "Latino Art Now!" She wanted to create a tribute to the Latino artists of Houston.
The Gibson Group's TouchCity platform combines narrative text, images, videos, maps, music and QR codes to provide users an all-encompassing presentation of Houston Latino art. Everything on the board is meant to be touched. When users tap on an art piece, they are presented with information such as location, the inspiration for the work, a video of the artist and/or artist background.
"Latino cARTographies has the potential to increase economic opportunities and visibility for Latino artists who have historically had limited access to mainstream arts opportunities, through placement of QR codes on the board to link visitors to artists and arts organizations," said Quiroz. "This project will bring the museum to the community and the community to the museum."
The digital board can be taken to libraries, schools, museums and city and academic events. It can also be frequently updated with new images and information.
---