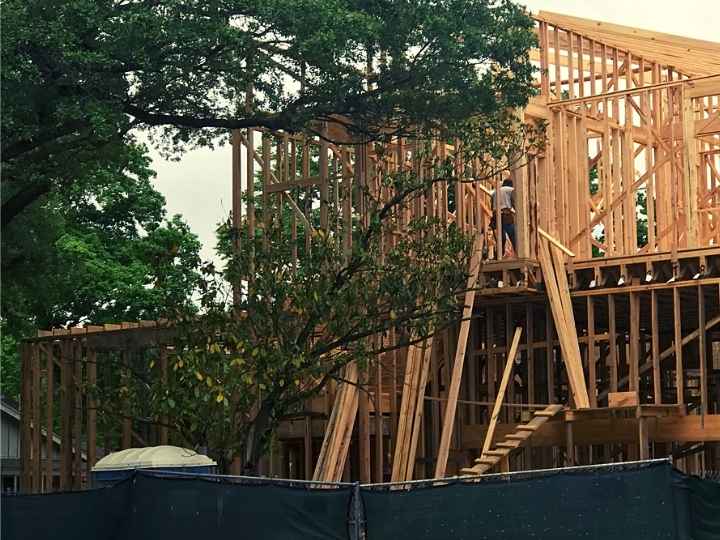 In the five years since Hurricane Harvey deluged Houston with rain for six days – resulting in flooding of historic levels – Houstonians proved themselves to be a "particularly resilient group of individuals," according to a survey released today by the University of Houston Hobby School of Public Affairs. But not all the news is good: Houston's vulnerable populations still lag in post-Harvey recovery.
"The Storm That Changed Houston: Reflections on Houstonians' Preparedness and Resiliency on Hurricane Harvey's Fifth Anniversary" takes a deep look across five years of data that measure the evolution of how Houstonians coped with the devastation, at what speed recovery happened and for whom rebuilding has been slow in coming.
"This new report provides an overall look at Harvey flood damage and demonstrates how much time rebuilding takes after a calamity of such large magnitude. It also shows the effects of a rise in momentum as support programs expanded in reach, bringing resources to more people," said Pablo M. Pinto, director of the UH Hobby School's Center for Public Policy and member of the research team responsible for the study.
The report comes after four previous surveys from the Hobby School, the first being conducted just three months after Harvey made its Aug. 25, 2017, landfall on the Texas Gulf Coast as a massive category 4 hurricane. Downgrading to a tropical storm, it stalled near Houston and dumped more than 40 inches of rain in some places over its five heaviest days – devastating many neighborhoods.
The survey's most positive news: 81.6% of survey respondents affected by Hurricane Harvey in the Greater Houston area have completely or mostly recovered from the effects of the storm. But there's a troublesome aspect, too: "The survey points out the communities still struggling after Harvey have also been the populations hit hardest over the past five years by other weather emergencies, including extreme cold, unusual heat and other flooding," said Maria Paula Perez Arguelles, a Hobby School research associate who participated in the analysis of the survey results.
"Although the massive scale of the Harvey flood makes it an outlier, extreme weather events are happening more frequently. It's critical for Houston, and all of our communities, to understand how effective recovery can be supported," added Savannah Sipole, a research associate at the Hobby School.
"Recognizing the costly damage of natural disasters like Harvey, area residents overwhelmingly support policies to mitigate the effects of future severe weather events and aid in recovery," said Agustín Vallejo, a postdoctoral fellow at the Hobby School and member of the research team. Policies, such as constructing a reservoir and enforcing more restrictions on building in flood plains, received around 90% support from respondents across multiple waves of surveys.
By the Numbers
The latest survey found ethnic and racial distinctions among respondents who were affected by Harvey: 50.5% of white, 57.3% of Black, 58% of Asians, and 64.4% of Hispanic survey respondents reported being affected by Harvey Hurricane in 2017.
Flood insurance made a difference. Among respondents who said they have completely or mostly recovered from Harvey's damage, 31.1% carried flood insurance. Among those who reported recovering little or not at all, only 18.5% had flood insurance. Flood insurance policies hit a peak among survey respondents three years after the Harvey floods, with an increase of almost 10 percentage points.
In the first year after the Harvey flood, only one in four survey respondents said they had filed for FEMA assistance. By 2022, nearly half (48.6%) reported seeking FEMA funds, but only 39.4% reported having received funds from their FEMA application. The racial-ethnic groups that reported higher rates of FEMA assistance applications in the aftermath of Harvey were Black (40.1%) and Hispanic (28.2%).
Compared with other natural disasters that affected the Houston area since 2004, Harvey resulted in the highest percentage of loss from damage to property (43.1%) among survey respondents. Of those affected, 52.4% reported damage to their residence; of those, 32.8% said they had to evacuate or relocate because of the damage.
In comparison to Harvey, Houston's next most extreme weather events packed a little less punch: 38.5% respondents reported property damage from the floods of 2019, and 38.2% from Winter Storm Uri in 2021.
About the survey
"The Storm That Changed Houston" reports findings from a five-year, survey-based project aimed at gauging the experience, recovery, resiliency and preparedness of residents in the Greater Houston area in the aftermath of Harvey. The study was conducted by the Hobby School of Public Affairs and funded by the National Science Foundation.
Respondents participating in each of the five waves of the survey are representative of the adult-aged population of Brazoria, Fort Bend, Harris and Montgomery counties. Sample sizes for each survey range from just over 2,000 respondents in the 2017 wave to 1,000 respondents in 2021-2022. They were matched to a sampling frame using demographic quotas for county, age, race, gender and education based on the 2019 data of the Census Bureau American Community Survey. The margin of error ranges from 2.2% to 3.1%, depending on the sample size, and could be larger for subsamples of the population.
Click
here
for the full "The Storm That Changed Houston" survey results, and
here
for the UH Hobby School of Public Affair's Hurricane Harvey research page.
---