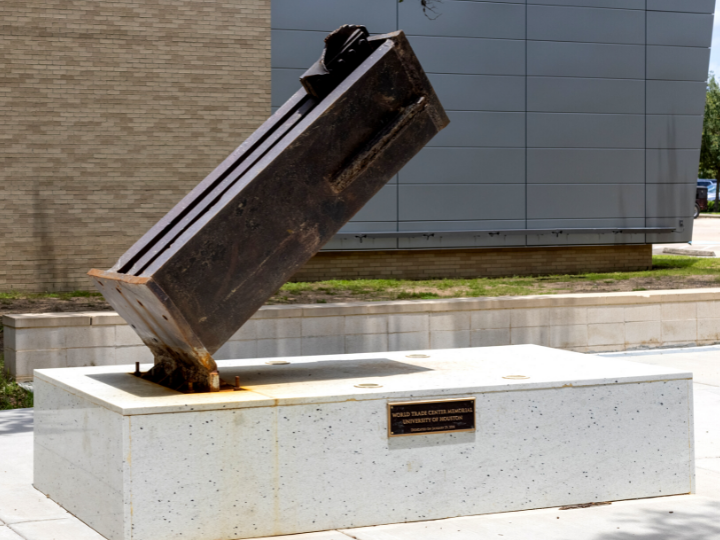 As the nation prepares to commemorate the 20th anniversary of the September 11 terrorist attacks, the University of Houston is planning events to honor the victims of 9/11. On Friday, Sept. 10, the UH community and the public are invited to attend a series of events hosted by UH Veteran Services that will begin at 8 a.m. and continue throughout the day.
The events will take place on the first floor of the Student Center South, 4455 University Dr., Houston, TX 77204. The schedule is as follows:
8 a.m.- 8 p.m., photo timeline exhibit at Student Center South corridor
9- 10 a.m., 9/11 ceremony in the Student Center South Theater (Room 103)
10 – 11 a.m., reception at the Student Center South Theater (or immediately following ceremony)
Visitors are also encouraged to visit the World Trade Center Memorial and Reflection Garden just outside the Student Center South Theater entrance. The memorial is a nearly two-ton steel beam from one of the World Trade Center Towers. UH is the first and only university in Texas to have a piece of "Ground Zero" displayed publicly. Click here to read a short story that explains how UH acquired the artifact.
WHAT: Commemorating the 20th Anniversary of 9/11
WHO: University of Houston Veteran Services
WHEN: 8 a.m. – 8 p.m., Friday, Sept. 10
WHERE: Student Center South, 4455 University Dr., Houston, TX 77204 (Click here for map and directions.)
---