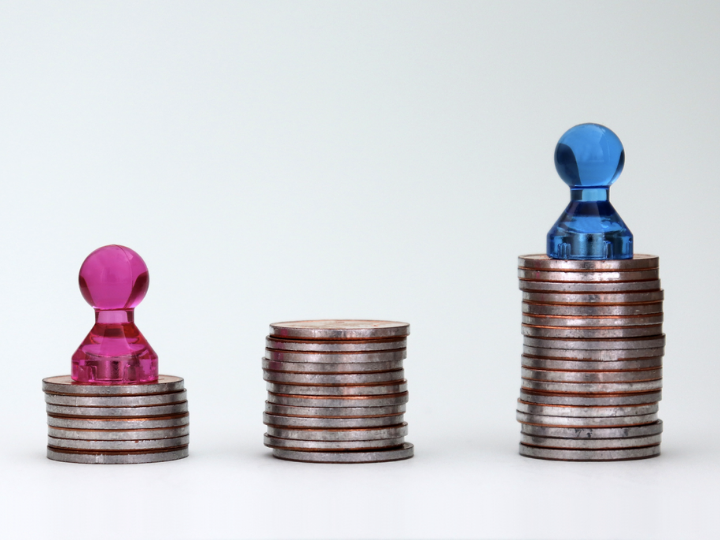 Even as the gender wage gap narrowed nationwide, the average pay disparity between men and women in Harris County widened, according to an analysis of the latest census data by the Institute for Research on Women, Gender & Sexuality (IRWGS) at the University of Houston. Factor in race and ethnicity, and the contrast is even more stark.  
The overall gender wage gap in Texas' largest county was 20% in 2019 (80 cents to the dollar), up from 17% in 2017 (83 cents to the dollar). This gap was greater than in comparable urban areas – 12% in both Los Angeles County and Cook County (Chicago), and 8% in New York City. The national gender wage gap in 2019 narrowed slightly from 20% to 19%. Data is from the U.S. Census Bureau's annual American Community Survey (2019), as well as other sources.
The wage gap also varied considerably among women by race/ethnicity, as compared to non-Hispanic white men, the highest paid group in the county: 
Non-Hispanic white women were paid, on average, 70 cents to the dollar
Non-Hispanic Asian/Pacific Islander: 62.5 cents
Non-Hispanic Black women: 45 cents
Hispanic women: 37.5 cents
"One of the dynamics we are looking at is the gender and race overlap, known as the 'double gap' for women of color," explained Elizabeth Gregory, report author and director of IRWGS and Women's Gender & Sexuality Studies in the UH College of Liberal Arts and Social Sciences. "But white women also see a nearly 50% larger pay gap here than nationally, perhaps due to the low rate of inclusion of women in the city's signature oil and gas industry."
Gregory notes that data for this report precede the COVID-19 pandemic; while a lot has changed since 2019, the pre-existent inequities set the stage for the further gendered challenges of the past 15 months. Co-authors of the report include Audrey K. Miller, research associate and postdoctoral fellow Claire Chi-Hung Kang.
The research team also examined Harris County's poverty rate, which was 15.1% for women, 44% higher than the male poverty rate of 10.5%.
Poverty rates among white women and men were nearly equivalent (6.6%F/6.2%M), as was the case with Asian/Pacific Islanders (10.4%F/10.5%M). Black women experienced slightly greater poverty than Black men (18.6%F/15.6%M), while Hispanic women had significantly higher rates than Hispanic men (21.1%F/ 11.9%M). This large gap seems to correlate with low median wages for Hispanic women intersected with motherhood, including single motherhood with limited supports, according to Gregory.
Single mothers raising minor children made up roughly 29% of Harris County mothers in 2019. Of that, more than one-third lived at or below the poverty line. Hispanic single mothers were most likely to live in poverty, at 43.6%. Lack of access to unemployment insurance and other federal supports among undocumented workers may be a factor in the wider gap.
"This study looks at parts of the economy that everyone knows are there, but few discuss," Gregory added. "Women's low wages as well as lack of a childcare support infrastructure that would allow women to work consistently have a direct effect on children's as well as women's poverty and overall status. By naming and discussing these problems as a community, we can move past taking them for granted to addressing them."
One step, researchers suggest, is for businesses to join community members in advocating for state and local policies that are fair, unbiased and invest in their own citizens and economy. Other key findings of the study include shifting fertility rates, women's increasing political presence in Texas and self-reporting trends among lesbian, gay, bisexual, or transgender (LGBT) community members.
IRWGS will soon supplement this report with 2020 and 2021 data from the census's household pulse surveys and other sources.
---