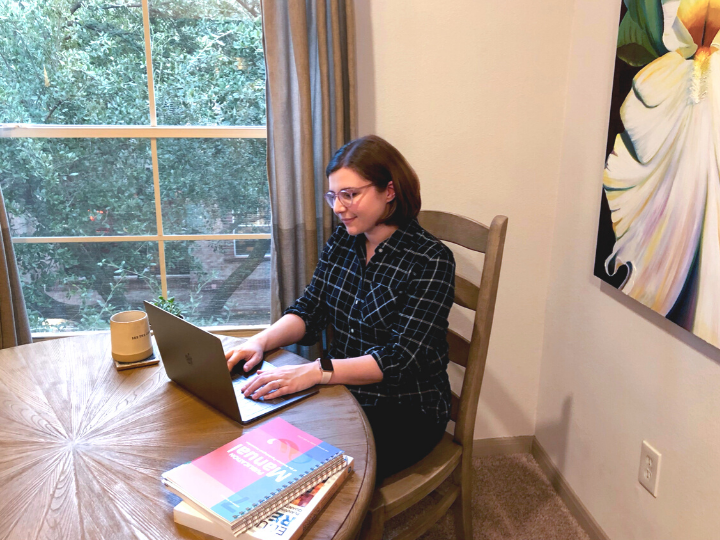 The online master's degree programs at the University of Houston College of Education are ranked seventh-best in the country, according to the 2021 list from U.S. News & World Report.
The popular ranking system evaluates factors such as student engagement, technology tools and support, faculty credentials, opinions of peers and more.
"The University of Houston takes pride in our commitment to high-quality, innovative instruction. Whether courses are online or face-to-face, student success remains our top priority," said Paula Myrick Short, senior vice president for academic affairs and provost at UH.
The College of Education has offered online graduate programs for more than a decade, giving professors and staff significant experience to adapt and expand offerings as remote instruction has increased amid the COVID-19 pandemic.
"Our faculty continue to innovate to ensure our students receive effective, yet flexible instruction to prepare them to be the leaders the world needs today," said Bob McPherson, dean of the College of Education. "Our technology team also provides guidance to help us use the best tools and strategies in online teaching and learning."
UH ranked the highest in Texas on the 2021 Best Online Graduate Education Programs list, tying with Creighton University in Nebraska and Pennsylvania State University World Campus for the No. 7 rank.
UH's strong showing, up from No. 8 in 2020, reflects a high graduation rate (93%); low class sizes (13 students on average); highly trained faculty; the use of different types of technology, including audio, video and mobile apps; and online support services such as academic advising and technical assistance.
The rankings cover the College of Education's online M.Ed. programs in curriculum and instruction, higher education and special populations. The curriculum and instruction program offers online specializations in early childhood; math; literacy; learning, design and technology; bilingual/ESL; and health science education. The special populations program includes online specializations in special education and gifted and talented.
Recent graduate Arundhuti Banerjee said she initially chose the online special education program because of its flexibility — she had a young son to care for at home — but ultimately found the expertise and responsiveness of the professors and the real-world application of the curriculum invaluable.
"My experience throughout the program was exceptionally good," said Banerjee, who graduated with an M.Ed. in special populations in May. "There's a lot of flexibility, and the program at UH is very well structured. Every faculty member was always ready to help. I had the best two years of learning."
Professor Kristen Hassett, who serves as director of the M.Ed. in special populations program, said she works to keep students engaged in her online courses by including various multimedia elements such as voice-narrated presentations, videos, podcasts and articles (she eliminated the costly textbook). In one lesson, students participate in an online activity to simulate reading with dyslexia and then write a plan for what accommodations could help.
Students can access the course materials 24 hours a day, convenient for working professionals and parents. They also can drop in to her virtual office hours or make an appointment for extra assistance.
"It takes more effort to build a high-quality online class than it does face to face," Hassett said. "For online instruction to be quality, the students have to be able to learn in a way that they can apply the material in real life."
Josie Adney, a student in the online M.Ed. in higher education program, said her fears about the rigor of online learning quickly dissipated.
"I was worried about the depth of learning that could be accomplished in an online platform and the quality because you're still paying the same tuition," she said. "You want to know you're going to come out with the skills and the knowledge, career opportunities and connections you would get in person. I have found across the board that has stayed consistent. The program has a ton of substance. I have been so pleased. It's really one of the best opportunities out there for online graduate education in the field."
Adney said she appreciates the convenience of being able to do schoolwork on her own time, setting up her laptop at her dining room table, with her books and espresso nearby. She and her classmates have a group chat set up to discuss assignments and can connect more through optional events.
What's more, Adney already has seen her career advance, transitioning from administrative work to advising students at a large public institution.
"We're about theory to practice," said Professor Tiffany J. Davis, who directs the M.Ed. in higher education program. "Our online courses have the same rigor as our on-campus courses." For example, an internship at a college remains a requirement, even for online students. "We're still training higher education administrators and change agents."
Professor Jen Chauvot, who leads the curriculum and instruction — math education program, said the combination of the college's faculty, technology staff and students make UH's online programs thrive.
"Our faculty do the work to make sure our students are successful," she said. "Whenever I talk to faculty at other universities, they don't have the kind of support we do. And then you have to give credit to our students. They're good students who come into our programs."
- Written by Ericka Mellon, director of Communications, UH College of Education
---