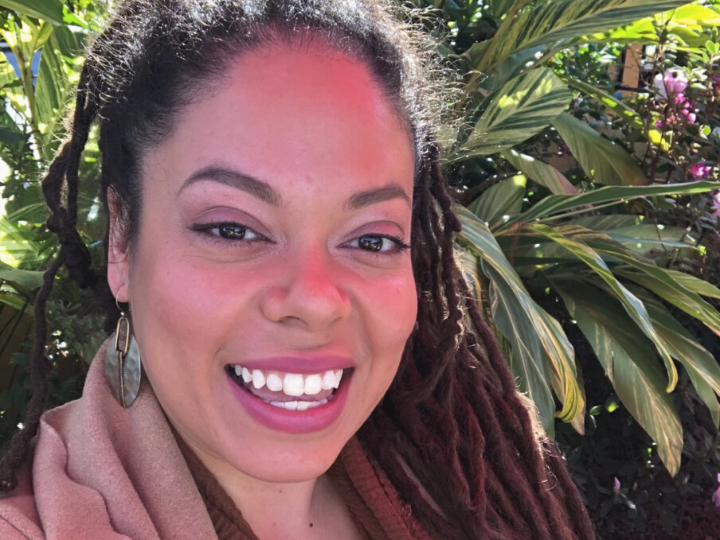 Joy Priest has been writing ever since she could hold a pen.
"I've been a poet all my life, but I was a reader first," said the first-year doctoral candidate in the University of Houston's renowned Creative Writing Program. "My mother would read to me every night, and when I was about three years old, I started taking the book from her because I wanted to read it myself."
That love of reading evolved into writing short stories and poems, and today, Priest is an award-winning poet who has received a Creative Writing Fellowship of $25,000 from the National Endowment for the Arts (NEA). She is one of 35 writers selected out of 1,600 applicants through a highly competitive, anonymous process and judged on the basis of artistic excellence of the work sample they provided.  
 "The National Endowment for the Arts is proud to support these 35 talented poets through creative writing fellowships," said Amy Stolls, director of literary arts at the Arts Endowment. "These fellowships often provide writers with crucial support and encouragement, and in return our nation is enriched by their artistic contributions in the years to come." 
Priest is nationally known for "Horsepower" (Pitt Poetry Series, 2020), a collection of poems about growing up in Louisville, Kentucky across from Churchill Downs "on the backside of the racetrack." The book won the Donald Hall Prize for Poetry and was nominated for the National Book Critics Circle Award's John Leonard Prize for best first book in any genre. She is also the recipient of the 2020 Stanley Kunitz Prize from the "American Poetry Review," and her poems have appeared in the Academy of American Poets' "Poem-a-Day" and "Virginia Quarterly Review," among others. This month, "The Atlantic" began featuring Priest's poem "Ghosts in Schools" as part of the publication's "Inheritance" project about American history, Black life and the resilience of memory.
"I write a lot about race," explained Priest. "I am very interested in the connections between America and Germany when it comes to racial ideologies."
As a NEA Fellow, Priest will be able to set time aside for writing, research, travel and general career advancement. She plans to use her award money to learn more about her familial origins and write a series of poems while studying at UH. Priest's workshop professor, Martha Serpas, an acclaimed poet herself, says Priest fits perfectly with an exceptional class of poets at UH because her work and presence are "inventive and fearless."
"Joy told me, 'I'll never stop writing about my family and Kentucky and racism.' What I admire about her process is that she incorporates a southern Kentucky vernacular in her work to deal with these complicated subjects," Serpas shared.
Since 1967, the Arts Endowment has awarded more than 3,600 creative writing fellowships totaling over $56 million. Many American recipients of the National Book Award, National Book Critics Circle Award, and Pulitzer Prize in Poetry and Fiction were recipients of National Endowment for the Arts fellowships early in their careers.
"As a writer, you don't know how your work going to be received," Priest added. "I think this award is validation that the work I am putting out there is quality work. It's good to be read."
The full list of FY 2021 Creative Writing Fellows is available here. 
---