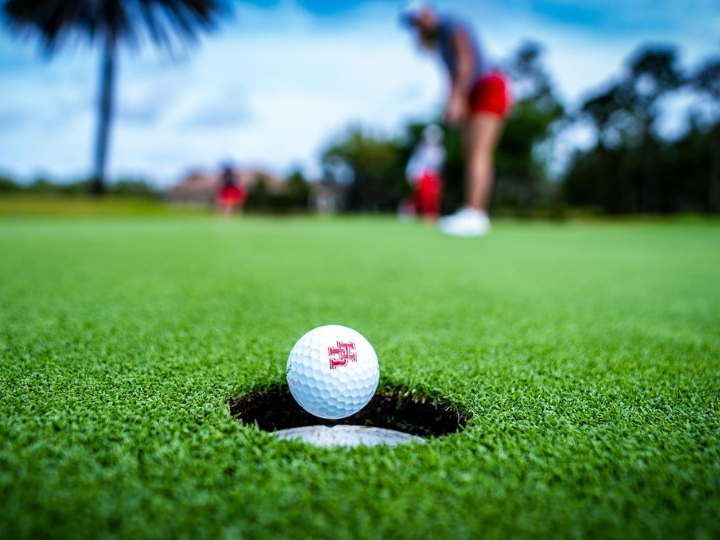 The Leatherwood family has made a $1 million gift to the Houston Cougars women's golf program in memory of Carolyn Macow Leatherwood, a longtime University of Houston supporter and lover of golf. Carolyn passed away last summer at the age of 73 after a long battle with Crohn's disease.
Carolyn spent many days on the golf course, perfecting each part of her game. She loved the competition but also loved the lessons golf taught each time on the course. She was a longtime member at Sugar Creek Country Club and had a standing tee time at the club with friends for many years.
At her passing, the Carolyn Macow Leatherwood Endowment Fund was established at the University of Houston, into which many friends and family members contributed. How best to use the funds in Carolyn's memory was not an easy decision. 
To perpetuate golf's impact on Carolyn's life, the Leatherwood family has combined the endowment funds with a $1 million gift in her memory toward the Houston women's golf program. Going forward, the women's golf head coach position at the University of Houston will be known as the Carolyn Macow Leatherwood Head Women's Golf Coach.
Carolyn and her husband, Steve ('71), gave to Houston Athletics for more than 30 years.
"We believe the best is yet to come for the Houston women's golf program and we are excited to make this gift in Carolyn's memory," Steve Leatherwood said. "Our hope is that this gift can be transformational as the program continues to ascend as one of the top college golf programs in the country. After Carolyn's passing, we wanted to make an impact, and we knew that golf gave her such joy, and was always in her heart."
"We are extremely thankful for the generous gift in honor of Carolyn Leatherwood and her passion for the sport," said UH President Renu Khator. "This gift provides essential, competitive support for the women's golf program and positions the program to compete at the highest level."
Carolyn's competitive spirit was known to all that walked the fairways with her.
"Carolyn's fiercely competitive spirit served her well in a life filled with health challenges," Barbara Macow Levine stated. "For Carolyn, if she could be on the golf course, even to play three holes or take a lesson, it was just fine with her."
The Leatherwoods started contributing to the University of Houston beginning in 1989, impacting student-athlete scholarships for the athletics departments for many years.
"We are profoundly grateful of the generosity by the Leatherwood and Macow family," UH Vice President for Athletics Chris Pezman said. "We appreciate their willingness to make an impact on our women's golf program that will be felt for years to come."
"Our team is completely blown away by this incredible gift to our program," Houston women's golf head coach Gerrod Chadwell said. "This financial commitment will impact generations of student-athletes in our women's golf program at the University of Houston."
Under Chadwell's leadership, Houston's women's golf program has won three American Athletic Conference Championships and earned five NCAA Regional berths.
HOW TO GIVE
For more information on how to give to Houston Athletics, please click here or contact Cougar Pride at cougarpride@uh.edu.
---