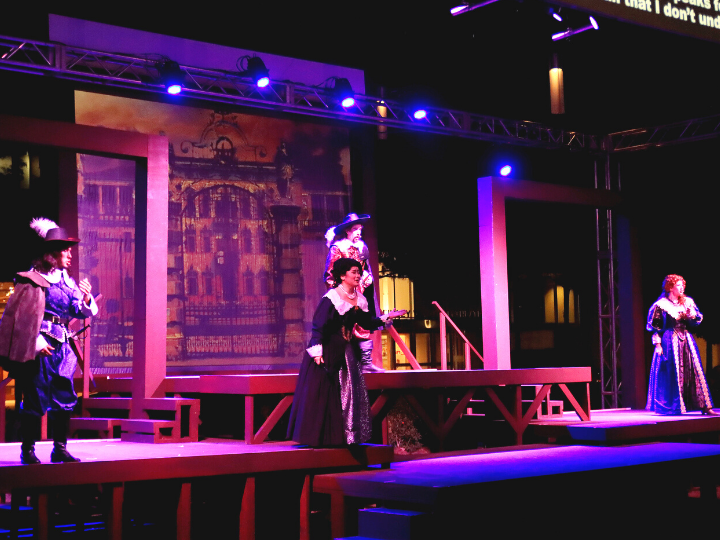 The Moores Opera Center at the University of Houston Kathrine G. McGovern College of the Arts will open its 2020-2021 season with an outdoor performance of Wolfgang Amadeus Mozart's masterwork "Don Giovanni" on Friday, Nov. 6 and Saturday, Nov. 7 at Wilhelmina's Grove outside the Moores School of Music (MSM). Both performances begin at 7:30 p.m.
Regarded as one of the greatest operas of all time, "Don Giovanni" is a comedy/drama based on the legend of Don Juan, a young playboy, a ladies' man, whose luck runs out. The UH rendition is directed by Buck Ross, Moores Opera Center director and Edythe Bates Old Professor of Music and conducted by Raymond Harvey, Moores Opera Center music director.
"We are thrilled to bring to life Mozart's masterpiece 'Don Giovanni' in one of the only live opera productions in Houston this fall," said Courtney Crappell, MSM director. "It has been inspiring to see the students and MSM community come together to create art, especially during these difficult times, and we know that you will not want to miss the chance to be part of this unique experience as the Moores Opera Center takes to the open-air stage for 'Opera in the Grove'."
This al fresco showing of "Don Giovanni" has been planned according to the University's COVID-19 protocols for events. Patrons and staff will be required to wear face coverings at all times, except when eating or drinking. Social distancing will be strictly maintained upon entrance and exit of the performance space, as well as during the performance.
A pre-show reception will begin at 6:15 p.m. for patrons who wish to purchase premium tickets. Click here for directions and parking information. Those who are unable to see the performance in person can watch live on the Moores Opera Center website  or the Moores Opera Center's Facebook page.
The Moores Opera Center's 2020-21 season continues with two virtual productions on the Moores Opera Center's Facebook page. Samuel Barber's "A Hand of Bridge" at 7:30 p.m. on Thursday, Nov. 19, and Leonard Bernstein's one-act opera "Trouble in Tahiti" at 7:30 p.m. on Monday, January 18. Both of these productions will remain on the Facebook page for two weeks. To view the entire season lineup through the spring and to purchase tickets, visit the Moores Opera Center website.
---