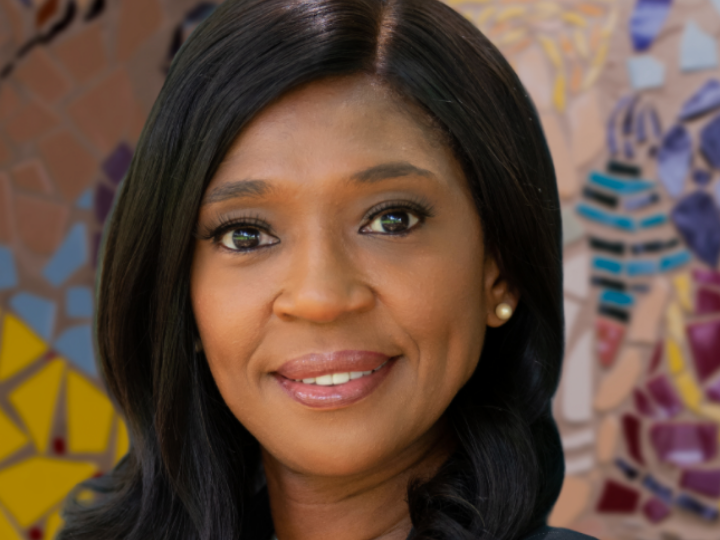 The Humana Integrated Health System Sciences Institute at the University of Houston (Humana Institute) and the UH Graduate College of Social Work (GCSW) are proud to announce Associate Professor Sheara Williams Jennings is the Humana Endowed Chair in Social Determinants of Health as of October 2020.
The establishment of this endowed chair is the result of 2019's historic partnership between Humana, one of the nation's premier health and wellness organizations, and the University of Houston. The establishment of the Humana Institute at the UH College of Medicine, is a direct result of this partnership. 
"Dr. Jennings is passionate about health equity and social justice and is committed to achieving both. For over a decade, she has built strong partnerships, earning the trust of agencies and communities within Houston's Third Ward and beyond," said Dr. LeChauncy D. Woodard, director of the Humana Institute. "Those relationships will enable us to continue building bridges between the Humana Institute and Houston's vulnerable communities."
Woodard will work with Jennings and the four other designated chairs from the UH Colleges of Medicine, Nursing, Optometry and Pharmacy. Together, they will further the Institute's efforts to advance research development, interprofessional teaching/training and comprehensive healthcare.
"I see this appointment as an opportunity for me to influence the involvement of social work in efforts to bridge gaps in healthcare systems through interprofessional education, training, practice, interventions, and research," Jennings said. "As the Humana Endowed Chair in Social Determinants of Health, I hope to leverage and expand my research projects and knowledge with minority communities in ways that support the mission of the Humana Institute and the College of Medicine in working with underserved populations." 
Jennings, whose research focuses on the family structure of minority groups (African-American and Hispanic) and its effect on children's well-being, education, health and development, regarded the Institute as critical. 
"The collaborative approach in which the Humana Institute has been established and structured places value on social work as one of the important components necessary to promoting health equity, patient-centered care, and addressing health disparities. Social work has a long-standing commitment to addressing such issues," Jennings said. "The Humana Endowed Chair in Social Determinants of Health allows me to do so in the critical spaces of health and healthcare, on behalf of the GCSW." 
Alan Dettlaff, dean of GCSW, emphasized the broader impact.
"As the University of Houston continues its work collaborating with Humana to address the health and well-being of our surrounding communities, Dr. Jennings will ensure that this work is done using a social justice lens," Dettlaff said.
Jennings joined the university in 2004 and has served many roles, including associate dean of doctoral education and interim special assistant to the provost. She has continuously engaged in teaching, mentoring, research, shared governance and community engagement/service to benefit both the GCSW and the broader community.
Earlier this year, Mayor Sylvester Turner appointed Jennings to the City of Houston's Health Equity Response Task Force to address the disproportionate amount of African-Americans dying from COVID-19 and provide the most impacted communities with additional information, supplies, and services. 
"Dr. Jennings brings a fantastic perspective to the Humana Institute and to our collaborative work on community engagement, education and research," said Tray Cockerell, director of strategic relationships in the Office of Population Health at Humana Inc.
"Our collaboration with the Graduate College of Social Work has been foundational to launching our strategic partnership, and we are thrilled to continue and expand our work with Dr. Jennings," he added.
Humana partners with the University of Houston to train future clinicians about holistic health and ways to address social determinants of health. The Humana Institute unites the colleges of Nursing, Pharmacy, Social Work and Optometry with the university's College of Medicine to provide future healthcare leaders with training on holistic, collaborative care that improves health outcomes.
---