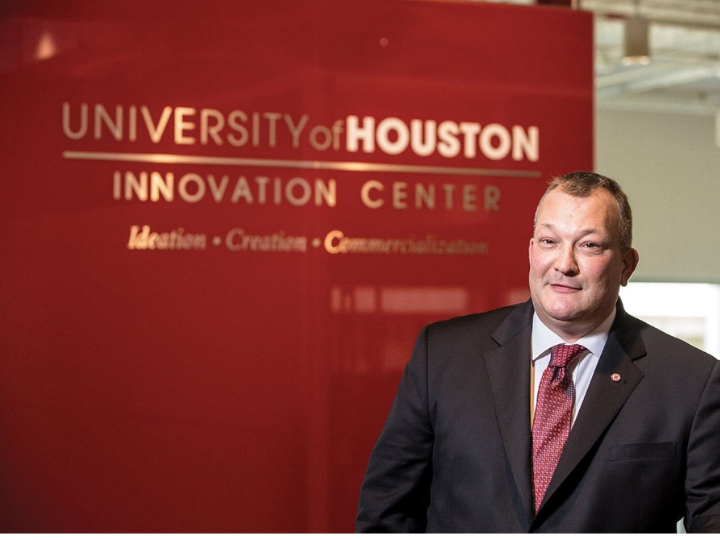 Mark Clarke, associate provost for faculty development and faculty affairs at the University of Houston, has been named a fellow of the National Academy of Inventors.
Clarke, a faculty member in the UH Department of Health and Human Performance, began his research career as a post-doctoral researcher at Harvard Medical School and moved to Houston in 1994 to serve as a National Research Council Fellow and then Senior Staff Scientist at NASA-Johnson Space Center. Since joining UH, his research has focused on the role of physical inactivity in bone remodeling and bone loss, and how membrane cholesterol content impacts skeletal muscle responses to insulin stimulation and physical exercise.
At NASA, he focused on musculoskeletal deconditioning, countermeasure development and biomedical monitoring during manned space flight, as he conducted life science experiments aboard the KC-135 zero gravity plane, Space Shuttle and International Space Station. His interest in bone reconstruction also led him to develop several biologically inspired techniques for purifying and manipulating single walled carbon nanotubes into useful composite materials.
The National Academy of Inventors Fellows Program highlights academic inventors who have made a tangible impact on quality of life, economic development and the welfare of society. The 2020 class represents 115 research universities and governmental and nonprofit research institutes worldwide. They collectively hold over 4,700 issued U.S. patents.
Amr Elnashai, vice president for research and technology transfer at UH, said the recognition of Clarke's work is yet another confirmation of the pivotal role UH faculty play in advancing the city of Houston, the state of Texas and the nation.
"Educating future generations and creating new knowledge are the cornerstones of academic life, whereby the University of Houston transforms knowledge into patentable technologies to answer societal needs," he said. "Naming Clarke as a fellow of the National Academy of Inventors not only recognizes an outstanding researcher, but it also highlights the role of the urban public university in improving the quality of life through innovation.
Clarke, who holds 13 U.S. patents, seven NASA technology innovation awards and has founded two life science startup companies to commercialize his technologies, was named a senior member of the academy in 2019, the first year for that honor. Senior members are recognized for fostering a spirit of innovation within their institutions, while educating and mentoring the next generation of inventors.
"Most faculty inventors, including myself, do not begin their research careers focused on creating or commercializing new technologies, nor do they usually know where to start when presented with such an opportunity" he said. "Helping faculty members and students transition fundamental discoveries into commercially valuable technologies and products is not only a key part of our mission as a Tier One research university, it is critical to our region's economic prosperity and ensuring that the U.S. remains competitive in an innovation-driven global economy."
Paula Myrick Short, senior vice president for academic affairs and provost, said the recognition is well-deserved.
"Dr. Clarke is an excellent example of faculty creating new technologies as a natural extension of their traditional roles in the classroom and research enterprise," Short said. "This award is well-deserved and recognition of his leadership through his own research and his outstanding efforts to help faculty members interested in positioning new technologies in the marketplace."
Clarke's institutional role in supporting and promoting innovation and entrepreneurship at UH began in 2012 as associate vice chancellor/vice president for technology transfer, where he led UH's successful effort to be designated as an Innovation and Economic Prosperity University by the Association of Public and Land-Grant Universities.
In collaboration with the Division of Research, part of his current role in the Office of the Provost is to help provide support and training for faculty members, post-doctoral fellows and students interested in commercializing new technologies, especially through initiatives located at the UH Technology Bridge. These efforts have been supported in part through two innovation-related grants, including one from the National Science Foundation to support the campus-wide UH Innovation Corps site, and one from the U.S. Department of Energy to create the Next-Gen Energy-X program, which recruits and trains underrepresented students interested in innovation-related careers in the energy sector.
The new class will be inducted at the 2021 Fellows Induction Ceremony at the Tenth Annual Meeting of the National Academy of Inventors this June in Tampa, Florida.
The complete list of NAI Fellows is available here.
---