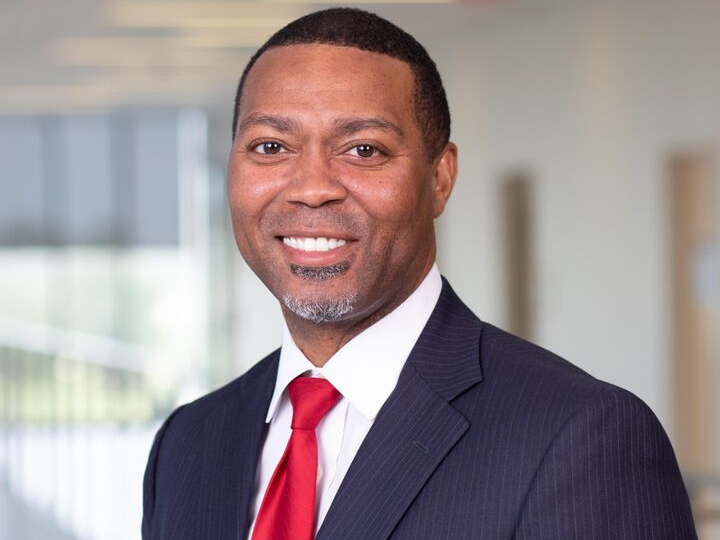 Dr. Brian Reed has a passion for helping patients live healthy lives, and now his primary care colleagues in Harris County are recognizing his commitment to patient care. After being nominated by his peers, the chair of the Department of Clinical Sciences at the University of Houston College of Medicine has been named the Family Physician of the Year by the Harris County Academy of Family Physicians.
A practicing family physician for nearly two decades, Reed was one of the first faculty hired last year by Dr. Stephen Spann, the founding dean of the new medical school. Spann, along with Reed's parents, were in attendance at the awards ceremony last month at the Briar Club in River Oaks.
"I'm humbled and totally surprised by this recognition and grateful for the career I've had thus far," he said. "It means so much to have my parents and Dr. Spann here because they have helped put me in a position to be successful. I'm especially grateful for Dr. Spann's mentorship."
"Brian is a valuable asset to the development of our medical school and a well-respected colleague. I'm extremely proud to see him receive this honor, especially since he was nominated by other family physicians, which speaks volumes to the impact he's making in the medical field," said Spann. 
Reed currently treats patients at the Lone Star Circle of Care at the University of Houston, a Federally Qualified Health Center located in the Health 2 building. The safety-net clinic provides high-quality, comprehensive primary and behavioral health care services to South Central Houston residents. As part of a new partnership with the College of Medicine, he also offers primary care services to patients at the Harris Center for Mental Health and IDD.
"I enjoy taking care of people throughout their lives — from the cradle to the grave — because you can develop relationships and guide families to lead healthier lives.  I view myself as a life coach, especially when taking care of patients with chronic conditions like hypertension or diabetes," he said.  
Along with direct patient care and curriculum development, Reed's responsibilities at the UH College of Medicine include establishing affiliation agreements with hospitals and clinics throughout the region as sites for future student clinical rotations. The College of Medicine will admit 30 students in its inaugural class, pending accreditation by the Liaison Committee on Medical Education. Being an integral part of the team responsible for building a medical school from the ground up is a challenge he embraces.
"Our mission to train more primary care physicians is an important one because there's a significant shortage in this city and state, and we have tremendous support," he said. "It's a blessing to be here at UH and I hope to inspire our future students to find the same joy that I experience being a family doctor — that's why I'm here."
Reed grew up in Sugar Land, Texas and completed his undergraduate studies and medical degree at the University of Michigan in Ann Arbor, Michigan. In 2002, he returned to Houston and joined the faculty group at Baylor College of Medicine and Harris Health System. He held various positions within Baylor and Harris Health System during his 16-year tenure including medical director, vice chair, interim chairman and assistant chief of staff for Ambulatory Care Services (ACS). Most recently he served as a division director at Harris County Public Health and also served as one of the lead physicians at the NRG Hurricane Harvey shelter.
---