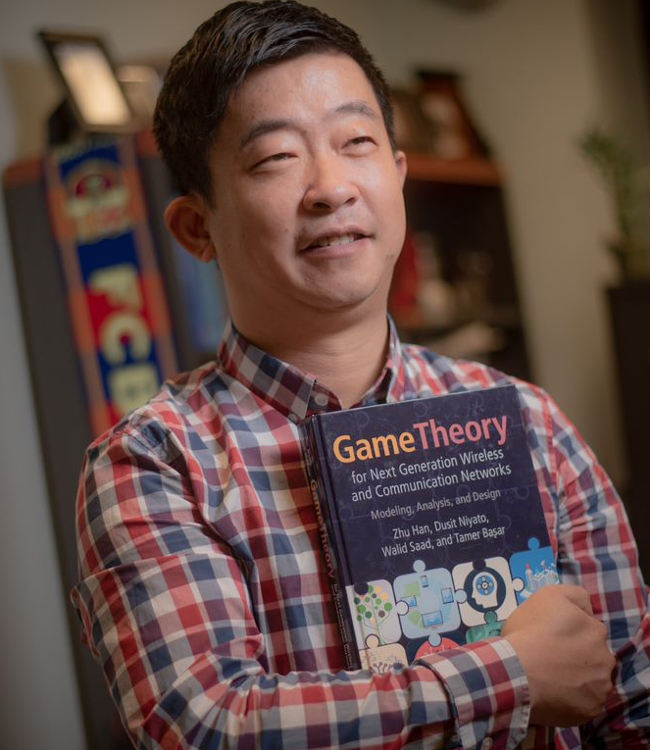 An engineering professor from the University of Houston has been elected to the American Association for the Advancement of Science, joining a select group of researchers recognized by their peers as among the best in their fields.
Zhu Han, John and Rebecca Moores Professor of electrical and computer engineering in the UH Cullen College of Engineering, is an expert in game theory, wireless networking and communications and big data.
AAAS is the world's largest general scientific society, and each year it elects members whose "efforts on behalf of the advancement of science or its applications are scientifically or socially distinguished."
Han was elected to the AAAS section on information, computing and communication for "distinguished contributions to the field of game theory, particularly by modeling analysis and algorithm design of new applications in communication networks."
"Dr. Han is a leader in game theory and wireless networks, and this recognition is richly deserved," said Joseph W. Tedesco, Elizabeth D. Rockwell Dean of the UH Cullen College of Engineering. "As the amount of data generated globally continues to grow exponentially, his work will help to ensure that engineers and society at large are able to benefit from the information being produced."   
Han and the other new fellows will be recognized at the association's annual meeting in Seattle next February. A candidate must be nominated by the steering group of the association's 24 sections or by three current AAAS fellows, or by the AAAS CEO. Each steering group reviews nominations within its section, and a final list is forwarded to the AAAS Council, the policy-making body of the association, which votes on the list.
Earlier this year Han was named a distinguished member of the Association for Computing Machinery. He has been included on the Clarivate Analytics list of highly cited researchers each year since 2017 and was named a fellow of the Institute for Electrical and Electronics Engineers (IEEE) in 2014.
His latest book, "Game Theory for Next-Generation Wireless and Communications Networks," was published earlier this year by the prestigious Cambridge University Press.
Much of Han's earlier work involved the smart electric grid and machine learning, but he increasingly is focused on the application of game theory to engineering problems involving the use of massive amounts of data. "As more data is collected, you need new ways to handle it," he said.
While game theory originated in the social sciences, looking at mathematical models of negotiation, conflict and cooperation between people, organizations and governments, the issues that arise in engineering and computer networking are different, Han said.  
"It must be revised to apply to the problems that engineers work with," he said.
---