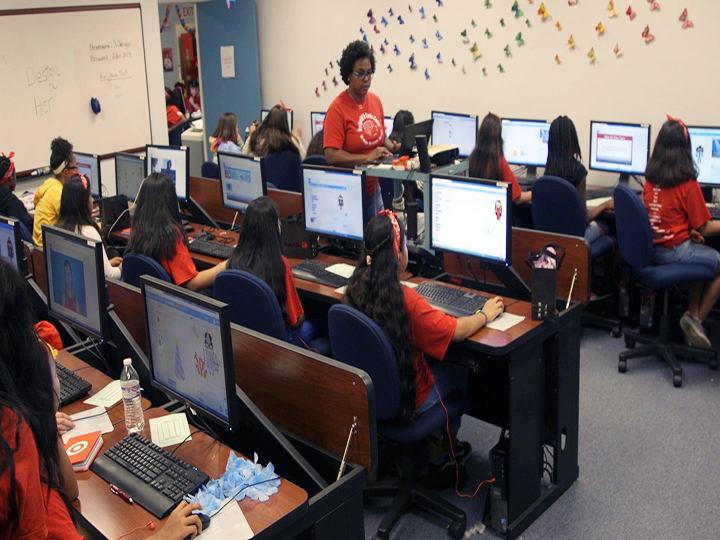 To excel in the fashion industry, you might not think it's necessary to have training in science, technology, engineering and math (STEM) fields. However, with the emergence of fashion apps, online search capabilities, instant live video feeds and more, the retail fashion world is undergoing disruptive technological changes. Driven by a critical shortage, retail is poised to hire 15% of all computer science graduates according to the National Retail Federation.
The DesignHER Code Camp at the University of Houston highlights opportunities for middle school girls from the greater Houston area, including Third Ward, to design their futures via coding skills and technology-based experiences. Workforce readiness and career preparation are encouraged by exposing the students to careers that require STEM skills.
"The intent is to draw girls toward STEM preparation by showcasing coding and programming applications related to fields in which they currently have interests, but may not consider as STEM or technology," said Barbara Stewart, professor of global retailing and retailing and consumer science. "For example, many middle school girls love fashion and clothes, yet few would view fashion as being related to STEM fields."
Presented by the University of Houston's College of Technology Retailing and Consumer Science program and the Texas Workforce Commission, the free camp has engaged more than 130 students this summer in hands-on experiences that provide challenging and innovative concepts in learning, problem-solving and analytical skills. The campers work side-by-side with female role models who are industry leaders in STEM fields.
"I've been having a lot of fun working with my mentors and my peers," said camp participant Laci. "Maybe I can make a fashion app because I like clothes, and I want to be a fashion designer when I grow up."
The goal of the innovative camp is to not only build self-esteem and confidence in STEM abilities, but to immerse young students in an on-campus, university experience to encourage them to pursue an education beyond middle and high school.
"If you fail, you just keep trying. It is complicated but I like challenging stuff," said camp participant Rosie. "I've been thinking about doing computer science in high school because my brother is really good at it, and I want to be just like him."
---