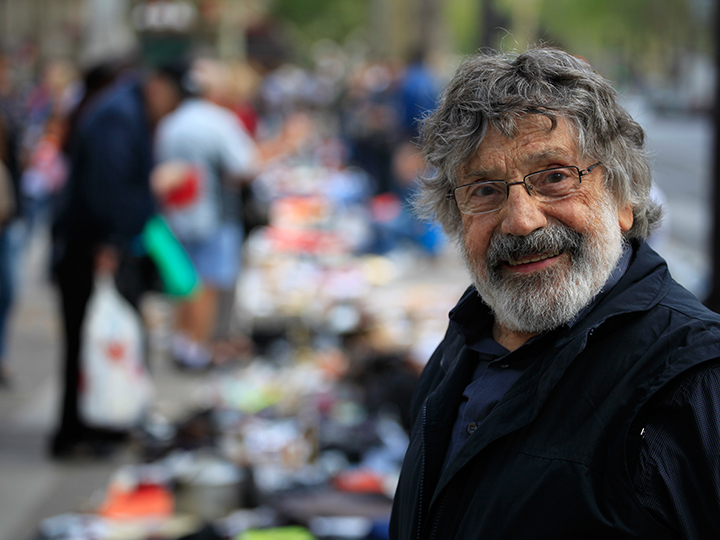 Carlos Cruz-Diez, a leading artist from Latin America known for his experimental language based on abstraction, died Saturday at the age of 95. The Venezuelan artist's "Double Physichromie" is a signature work in the Public Art of the University of Houston System (Public Art UHS) Collection and his son, Carlitos Cruz-Diez, spoke about his father's six decades of work during a lecture at UH last year.
"He created art for ordinary people and saw color as an integral part of our everyday experience. 'Double Physichromie' adds to the social fabric of our campus, stimulating and inspiring our university community," said María C. Gaztambide, Public Art UHS director and chief curator.
The serpentine sculpture has made the University of Houston campus home since 2009 and was re-sited in 2018. It was Cruz-Diez's first public commission in the United States and one of the largest public artworks he ever realized. In keeping with works from Cruz-Diez's "Physichromie" series, which began in 1959, "Double Physichromie" explores the artist's concept of "additive color," or virtual colors that the eye perceives but do not actually exist in the work.
"Cruz-Diez's careful design of 'Double Physichromie' and input during its recent relocation were instrumental to Public Art's evolution as one of the most inclusive and plural university art collections in North America," said Gaztambide, noting that it encapsulates 50 years of pioneering work in the field of visual perception. "Maestro Cruz-Diez significantly advanced key concepts related to the experiential qualities of art. His unrelenting commitment to experimentation and to constantly adapting to changes in materials and technology transcend the visual arts."
For the past year, members of the UH community and art enthusiasts alike have been able to enjoy the sculpture in all of its colorful beauty in the University's Arts District between the Graduate College of Social Work, Fine Arts Building and Student Center Satellite. Cruz-Diez's work can be also found at The Museum of Fine Arts, Houston as well as in countless institutions globally.   
"He truly was a tremendous example of how embracing change can lead to phenomenal breakthroughs in every facet of life," said Gaztambide.
---